Egypt
Middle East
Desperate voters bribed with food as Egypt goes to polls to extend Sisi's rule to 2030
Nearly 90 percent of voters in Egypt have backed constitutional amendments that allow President Abdel Fattah el-Sissi to remain in power until 2030, election officials said on Tuesday.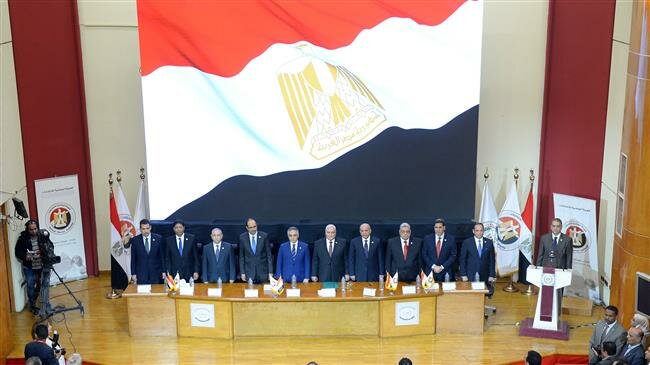 Lasheen Ibrahim, the head of Egypt's National Election Authority, said in a press conference in Cairo that the amendments to the country's 2014 Constitution were approved with 88.83% voting in favor, with a turnout of 44.33%.
"These (changes) are effective from now as your constitution," Ibrahim said.
The nationwide referendum took place over three days, from Saturday through Monday to maximize turnout. Almost 27 million votes were cast out of an eligible base of 61 million voters.
Fourteen amendments to Egypt's 2014 constitution were up for a vote, as well as two new articles. Egypt's parliament voted last week in favor of the changes.
One amendment would extend a presidential term from four to six years. It would also add two more years to Sisi's current term and allow him to seek re-election for another six-year term in 2024.
Another measure would expand Sisi's power over the legislative branch by creating an upper house known as a senate. The president would be able to handpick a third of the members.
The new changes will bolster the role of the military and expand the president's power over judicial appointments, giving him new authority to appoint members of the judiciary.
Pro-government media, business people and lawmakers had pushed for a "Yes" vote and a high turnout, with many offering free rides and food handouts to voters, while authorities threatened to fine anyone boycotting the three-day referendum.
"I didn't vote yes to get a bag [of food], but the bag encouraged me to go to the polls," one voter in the Shubra district, whose name has been withheld for her safety, told The Guardian, recounting an intricate system whereby a local trader took a photo of her ID card and number for receiving government subsidies 10 days before the vote. She presented this to receive a pink slip outside the polling station, the voucher was then stamped by staff inside after she voted, and it was exchanged with a vendor for a bag of basic foodstuffs, such as cooking oil, pasta, sugar, and tea.
"People are poor and we need anything that can support us," she said. "A lot of people I know went to the polls in order to get a bag of food, because Ramadan is around the corner and prices are very high these days."
Egyptians vote on final day of 'unfree' referendumThe final results of the referendum will be announced on April 27.
Opposition parties had urged a "no" vote, but they have little power in parliament, which is packed with el-Sissi supporters and overwhelmingly approved the amendments earlier this month. The local media is also dominated by pro-government commentators, and the authorities have blocked hundreds of websites, including many operated by independent media and rights groups.
El-Sissi led the military overthrow of an elected but divisive president amid mass protests against his rule in 2013 and has since presided over an unprecedented crackdown on dissent.
Thousands of people, including many pro-democracy activists, have been arrested by authorities. Freedoms won in 2011, when mass protests ended President Hosni Mubarak's nearly three-decade rule, have been rolled back.