Middle East
Palestine
Desperate zionist regime conducts war games in preparation for battle with Lebanon's Hezbollah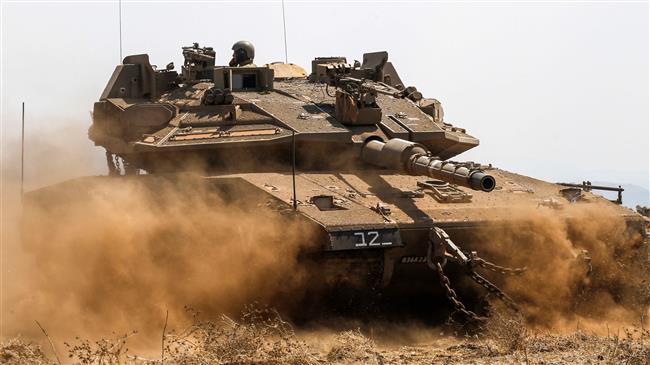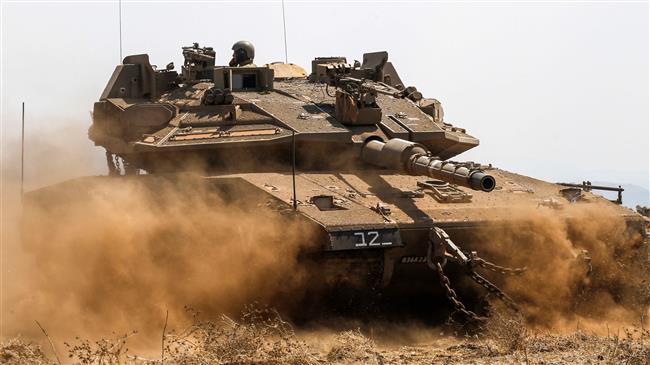 Israeli military says the regime has recently conducted war games using several divisions, including the infantry regiments, tanks and combat engineering units, in a move, which is apparently aimed at preparation for another war with the Lebanese resistance movement Hezbollah 12 years after the Israel's defeat in the 33-day military onslaught against Lebanon.
"There has been incredible progress in our abilities. If you look at 150 kilometers around us, you will not find a brigade or corps as strong as these in their capabilities," the Jerusalem Post quoted Israeli military's Chief of Staff Gadi Eisenkot as claiming on Sunday.
He added that divisions such as the 7th Armored Brigade as well the Golani Brigade were joined together as a unified force to field-test a new fighting method as part of a major reform meant to streamline the regime's military.
The newly-adopted method was put into test during a drill simulating war in the northern parts of the occupied Palestinian territories near the southern borders of Lebanon against the Hezbollah fighters.
Eisenkot further claimed that they tried out new tactics and technologies, including an anti-mortar laser and more accurate artillery, during the war games.
Lebanon's Hezbollah vows to defend Lebanon's oil and gas rights against new Israeli aggression.
The military drills were conducted exactly 12 years after Israel and Hezbollah last fought a war where around 165 Israelis, including 119 troopers, and 1,200 Lebanese died during Israel's 33-day war on Lebanon, which lasted from July 12 to August 14, 2006.
Although Israel managed to occupy some parts of southern Lebanon during the aggression, it was later faced with fierce resistance from Hezbollah fighters, who forced the occupying regime in Tel Aviv to withdraw its forces and give in to a humiliating defeat despite its earlier claims.
The defeat suffered by Israeli forces in the war with Lebanon, along with two similar defeats in its wars with the besieged Gaza Strip, have been seen by analysts to have effectively shattered the myth of invincibility of the Israeli army.
UN Security Council Resolution 1701, which brokered a ceasefire in the 2006 war, calls on Israel to respect Lebanon's sovereignty and territorial integrity. However, the Israeli military keeps mulling the launch of yet another war on Lebanon, disregarding the UN resolution.
Another top military officer, cited by the Israeli daily on Sunday, also said that a new potential war with Hezbollah would mean fighting the resistance fighters on four different levels: underground, on land, in the air and online.
Hezbollah "has changed and therefore, so has" the Israeli military, he said, adding, "If we will fight differently we need to train differently."
The Hezbollah chief says fighters from the resistance movement are defending southern Lebanese towns and cities against any act of aggression by Israel.
Back in May, Hezbollah Secretary General Sayyed Hassan Nasrallah strongly warned the Tel Aviv regime against launching another war on Lebanon, vowing that Hezbollah would "assuredly win" if the two sides were to go to war.
"The weapons Hezbollah had before the Israeli pullout were minor and incomparable to those it possesses today," he added at the time.
Israel has time and again launched airstrikes against different government-held localities in war-hit Syria, with its warplanes violating the Lebanese airspace.
Furthermore, the Syrian army has on several occasions seized huge quantities of Israeli-made arms and military equipment from terrorists fighting against government forces. There are also reports that Tel Aviv has been treating extremists wounded in Syria at its medical centers and hospitals.