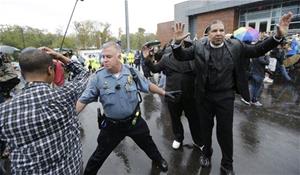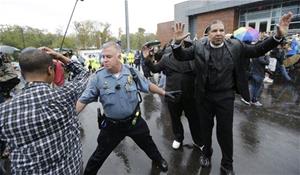 Missouri Governor Jay Nixon has warned the people of Ferguson against holding protests as the town braces for a grand jury decision on Michael Brown's case.
Over the past two months, more than 1,000 cops received over 5,000 hours of specialized training in crowd control, Nixon said at a news conference at Missouri Highway Patrol's headquarters in Weldon Springs on Tuesday.
Ferguson turned into a scene of violent clashes between police and protesters after the fatal police shooting of 18-year-old African-American Michael Brown on August 9. He was shot multiple times and killed by a white policeman.
In mid-to-late November, the grand jury is expected to make a decision on whether or not to indict Ferguson police officer Darren Wilson.
"These measures are not being taken because we are convinced that violence will occur, but because we have a responsibility to prepare for any contingency," Nixon said.
He added that the National Guard would be on standby on the day the decision is announced and police officers from across the state would be called to service if necessary.
Meanwhile, rumors have flooded social media sites on an impending decision on the indictment.
Brown's family and activists want prosecutors to charge Wilson with murder.
According to a poll by the New York Times/CBS News, the majority of African-Americans have lost confidence in the justice system following the killing.
The poll found about six in 10 blacks said they had little to no confidence the investigation into Brown's shooting would be handled fairly.