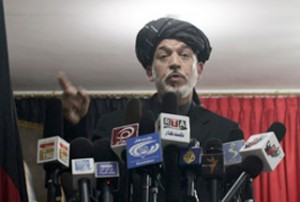 Days after the Afghan leader delivered a scorching attack on the West over its conduct in Afghanistan, NATO has warned President Hamid Karzai against undermining public support for the US-led war in the country.
On Tuesday, NATO spokesperson James Appathurai called on Afghans from all walks of life to recognize the "enormous efforts and sacrifices" the alliance has been making in Afghanistan.
"We hope and expect that this is recognized by the Afghan people, including at the highest levels," Appathurai said.
The tension between the West and Karzai was exposed publicly last Thursday when the Afghan leader accused "foreigners" of perpetrating fraud in the country's August presidential election.
Despite having incurred the White House's anger with such comments, President Karzai said he stood by his remarks and appeared to sharpen the criticism still further by singling out the US specifically for blame and threatening to step down and join the Taliban if outside pressure for reform continues.
White House Press Secretary Robert Gibbs responded by describing President Karzai's remarks about the US and its allies as "genuinely troubling."
Civilian casualties in Afghanistan caused by attacks carried out by coalition forces have fueled anti-US sentiment in the country.
NATO reported Tuesday that one of its airstrikes in southern Afghanistan had accidentally killed four civilians, including two women and a child.
The coalition forces have also admitted to the killing of three women in a bungled raid in February — after initially denying involvement.
There are currently over 120,000 foreign troops in Afghanistan, and the US and its NATO allies have announced the imminent deployment of 30,000 more troops.
However, the US and NATO appear to have no clear exit strategy.