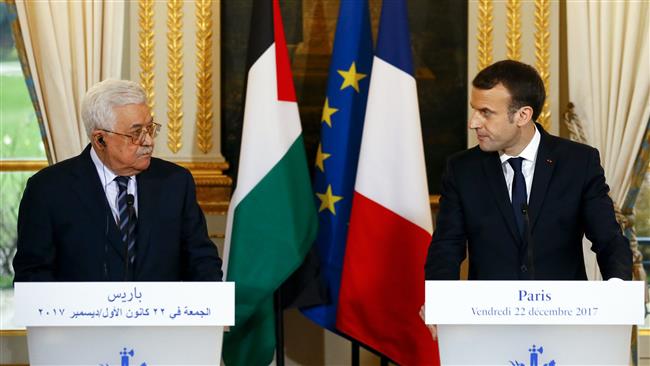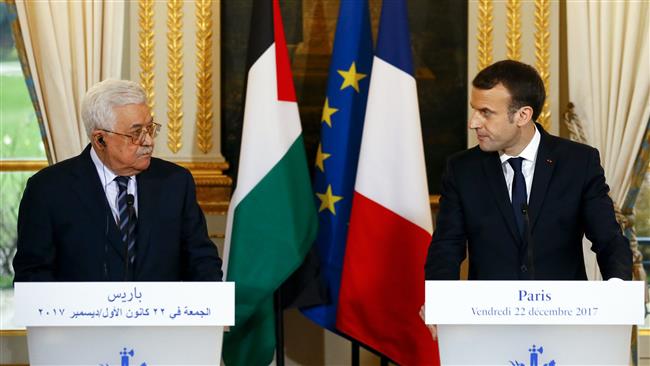 Palestinian President Mahmoud Abbas says his nation will "no longer accept" any initiative from the US as part of the so-called Middle East peace process, calling Washington a "dishonest mediator."
"The United States has proven to be a dishonest mediator in the peace process and we will no longer accept any plan from the United States," Abbas said after meeting with French President Emmanuel Macron in Paris on Friday.
Abbas also condemned a threat by US President Donald Trump to end financial aid to the countries which voted at the UN against Washington's move to recognize Jerusalem al-Quds as Israel's "capital."
Macron, for his part, condemned Washington's declaration on Jerusalem al-Quds, saying, "The Americans have marginalized themselves and I am trying to not do the same thing."
The French president, however, ruled out unilaterally recognizing a Palestinian state in the short term, saying France will adopt the decision "at the right time."
Macron further announced that he would make a visit to the Palestinian territories in 2018.
"I have committed myself very clearly to doing everything" to further the so-called peace process, he said.
Abbas, in turn, hailed Macron's efforts as a mediator in the Israeli-Palestinian conflict.
"We have trust in you. We respect the efforts made by you and we count heavily on your efforts," he said.
On Thursday, the United Nations General Assembly overwhelmingly voted in favor of a resolution that calls on the US to withdraw its controversial recognition of Jerusalem al-Quds as Israeli "capital."
In an attempt to avert the resolution, Trump had warned that "we're watching," threatening reprisals against countries that back the measure, which earlier faced a US veto at the UN Security Council.
Israel, however, rejected the world body's resolution while thanking Trump for his decision to move US embassy from Tel Aviv to Jerusalem al-Quds.
The dramatic shift in Washington's Jerusalem al-Quds policy has drawn fierce criticism from the international community, including the United States' Western allies, and triggered demonstrations against the US and Israel worldwide.
Jerusalem al-Quds remains at the core of the Israeli-Palestinian conflict, with Palestinians hoping that the eastern part of the city would eventually serve as the capital of a future independent Palestinian state.