Syria
Double-faced Putin congratulates Assad on Syrian army achievements in anti-terror fight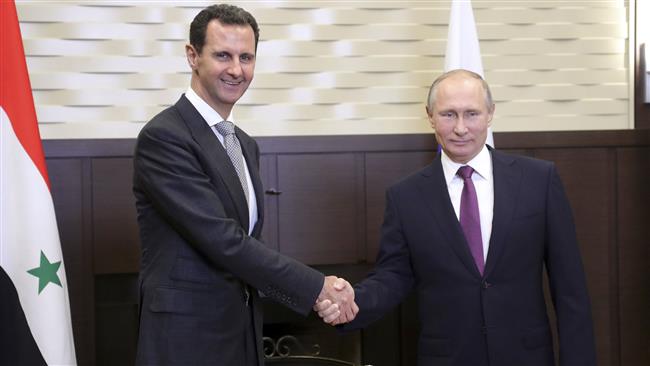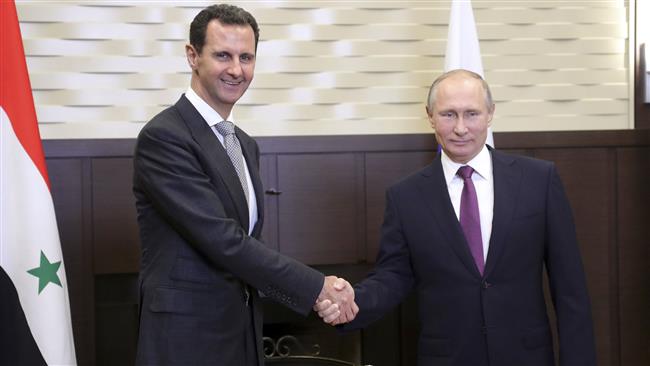 Russian President Vladimir Putin has congratulated Syrian President Bashar al-Assad on the latest victories achieved by the Syrian army against terrorists on the battlefield.
The meeting between the two presidents took place on Monday in the Black Sea resort city of Sochi, which is to host a trilateral summit on the Syria crisis. The event will also be attended by Iranian President Hassan Rouhani and Turkish President Recep Tayyip Erdogan, on Wednesday.
"Syria is striving in the fight against terrorist groups," Putin said in comments released by the Kremlin early on Tuesday, adding, "the Syrian people are going through very difficult trials and are gradually approaching the final, unavoidable rout of terrorists."
Putin also expressed hope that the fight against terrorism in Syria will conclude in "the near future" and stressed that there is still "a long way to… achieve a complete victory" there.
"But as far as our joint work in fighting terrorism on the territory of Syria is concerned, this military operation is indeed wrapping up," the Russian leader added.
Russian jets have been conducting air raids against Daesh and other terrorist groups inside Syria at the Damascus government's request since September 2015.
The airstrikes have helped Syrian forces advance against anti-Damascus militants, who have been wreaking havoc in the Arab country since 2011.
"I think that now the most important thing, of course, is to move on the political questions, and I note with satisfaction your readiness to work with all those who want peace and a solution (to the conflict)," Putin told Assad.
Assad, for his part, hailed Russia's "very successful" aerial campaign in Syria.
"On behalf of the entire Syrian people, I express my gratitude for what you have done," Assad told the Russian leader. "We will not forget it."
The Syrian president underlined the need for a political settlement of the crisis in his country.
"At this stage, especially after we achieved victory over terrorists, it is in our interests to move forward with the political process," Assad said.
He further emphasized that Damascus relies on Moscow's support to ensure non-interference in Syria's affairs.
"We count on the support of Russia to ensure the non-interference of outside players in the political process," he pointed out.
Putin and Assad last met in Moscow on October 20, 2015, less than a month after Moscow launched its military operation in Syria.
Assad's visit part of Syria peace process
Kremlin spokesman Dmitry Peskov said on Tuesday that Assad's visit to Russia was meant to ensure that he agrees to possible peace initiatives with Russia, Iran and Turkey.
Peskov also noted that Putin had spoken with the Iranian and Turkish leaders to "assure them that Russia will work with Syrian leadership to prepare the groundwork for possible understandings" that could be reached during the trilateral Sochi meeting.
Asked whether Putin and Assad had discussed the Syrian president's fate, Peskov said "possible options for political settlement have been discussed," reiterating, however, that Assad's future could be decided by the Syrian nation.
"Only the Syrian people can see Assad's future role," he added.