Syria
Douma: Syrian Army Inches Closer to Jeish Al-Islam's Main Stronghold in Damascus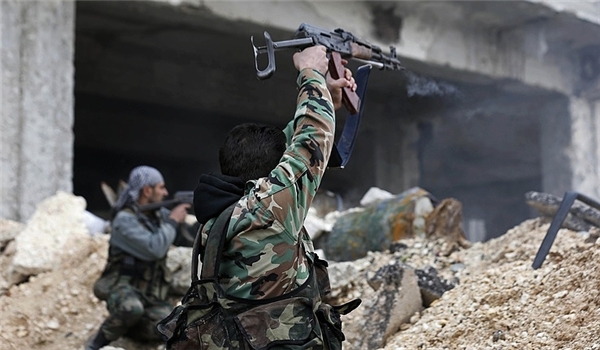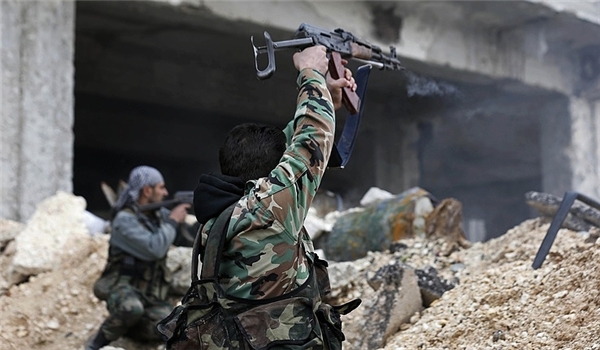 The Syrian army continued operations against the terrorist groups in Eastern Ghouta of Damascus and advanced in new areas.
The Syrian military forces and their allies advanced near Meida'ani town after its liberation and could win control over a vast part of Hawsh al-Shalaq town.
Also, the Syrian army troops targeted the terrorists' gathering centers and strongholds with artillery fire in Jobar district, Eastern Damascus, and inflicted heavy damage on the militants.
The Syrian fighter jets also pounded the terrorists' positions in al-Marj, Harasta and Douma regions as well as al-Shifouniyeh town.
In a relevant development on Wednesday, Syrian army soldiers hit the terrorist groups' positions hard along their key supply lines in Eastern Ghouta, cutting off the road and inflicting major casualties on the militants.
The army troops managed to shut down the supply route between al-Shifouniyeh and Autaya near Hawsh al-Dawahirah.
The Syrian soldiers also recaptured most of the farms near the Hawsh al-Shalaq town in Eastern Damascus.
The army units have encircled the positions of the terrorists along a chunk of the Harasta Highway that goes to the key city of Douma.
As Syrian army prepares to start a special operation to recapture Harasta and Douma, Jeish Al-Islam has sent the elderly to negotiate with the Syrian government in order to work out a possible reconciliation agreement.
Earlier reports said that the army forces, backed by warplanes, started a massive assault on Jeish al-Islam terrorists in the Eastern parts of Damascus province and gained ground in the first hours of the operation.
The army units inflicted heavy casualties and damage on the terrorists after fierce clashes with Jeish Al-Islam near the newly-freed town of al-Meida'ani in Eastern Ghouta and seized control of all the plants near the town, including three bicycles and motorcycles manufacturing factories.