Middle East
Palestine
Dozen arrested as anti-Netanyahu protest turns violent in Occupied al-Quds
Zionist police have clashed with people protesting against prime minister Benjamin Netanyahu in Jerusalem al-Quds for the 11th consecutive week, arresting 12 demonstrators.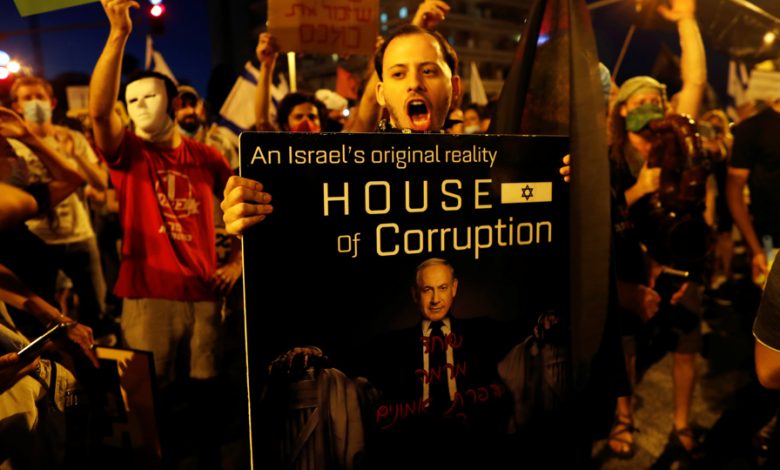 Thousands of Israelis marched Saturday night to Paris Square outside Netanyahu's official residence, demanding that he resign over corruption charges and his handling of the coronavirus crisis, which has led to soaring unemployment in the occupied territories.
Holding banners reading "Revolution" and "Get out of here," the protesters projected a sign aimed at the prime minister on a building reading in Hebrew, "Enough with you."
Scuffles were reported as policemen attempted to stop the participants from veering off-path or crossing barricades.
Police said two officers were injured as demonstrators tried to bust through a police barrier.
Shortly after midnight, the crowd was dispersed from Paris Square, with senior Jerusalem al-Quds police commander Amir Barazani reporting 12 arrests.
The centrist parliamentary faction Yesh Atid-Telem said in a statement that a group of its activists and lawmakers joined the rally against the regime.
Reports said attendance at Saturday's protest was lower than in previous weeks due to the scorching weather and the beginning of the school year.
"We got to Paris Square around 10, and we saw there wasn't the same amount as last week, we can't ignore that," said Nitzan Ron, who coordinates volunteers for Peace Now NGO. "But we still saw thousands of people show up, despite coronavirus and the end of the summer vacation."
"The future of the protests is an open question. I hope it works out, that the demonstrations will continue," Ron added.
Protesters are angry with a recent spike in virus infection cases in Israel, which stands at 128,936. The death toll has also passed 1,000 amid a hasty reopening of the economy in the occupied lands.
They carried giant submarines, in reference to a massive procurement bribery scandal. Several of Netanyahu's associates have been indicated in the so-called submarine affair.
In addition to Jerusalem al-Quds, people held similar anti-Netanyahu rallies elsewhere across the occupied lands at some 300 bridges and major intersections.
Protesters gathered outside Netanyahu's private home in Caesarea, with former army commander Major General Noam Tibon attending the event.
"The corrupted Bibi is the one responsible for the failure that Israel is experiencing. …These demonstrations will eventually send Bibi home," he said.
Parallel gatherings also took place in Hadera and the Arab cities of Taibeh and Nazareth.