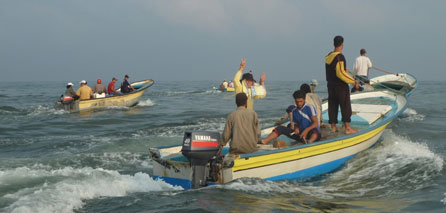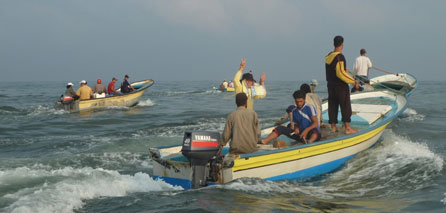 An human rights organization confirmed that the Israeli naval forces wounded and arrested, since the truce a month ago, 34 Palestinian fishermen in the Gaza Sea, destroying and confiscating ten fishing boats.
The Palestinian Centre for Human Rights (PCHR) said in a statement that the Israeli marines opened fire on Monday morning towards a Palestinian fishing boat in the waters of the Sea of Gaza, wounding and arresting the two fishermen who were on the boat and confiscated their boat to the port of Ashdod.
The occupation forces transferred the injured fisherman to hospital and released the other at a late hour of the same day, after interrogating him.
The center said that it monitors the developments that have taken place in the waters of the Gaza Sea, since the declaration of the truce between Palestinian resistance and the occupation under Egyptian and international auspices.
A number of Palestinian fishermen told PIC that they were fishing in the sea at a distance of six nautical miles, where the Israeli gunboats were so close to them despite the Israeli decision to allow Palestinian fishermen to fish and sail six nautical miles off the Gaza coast.
PCHR strongly condemned the continuing Israeli violations against Palestinian fishermen in the sea of the Gaza Strip, including the use of excessive force against the fishermen.
The center called on the international community, including the High Contracting Parties to the Fourth Geneva Convention of 1949, related to the protection of civilians in time of war, to intervene in order to stop all the Israeli violations against Palestinian fishermen immediately, and allow them to fish freely in the strip's water.
The human rights center also called to stop the Israeli prosecution policy against Palestinian fishermen, and to let them sail and fish freely.