Human Rights
India
Dozens of journalists stage protest against 'media gag' in Kashmir
Dozens of journalists in the Indian-administered Kashmir have protested a two-month-old "communications blackout" imposed by New Delhi authorities that has badly affected their ability to work in the disputed Himalayan region.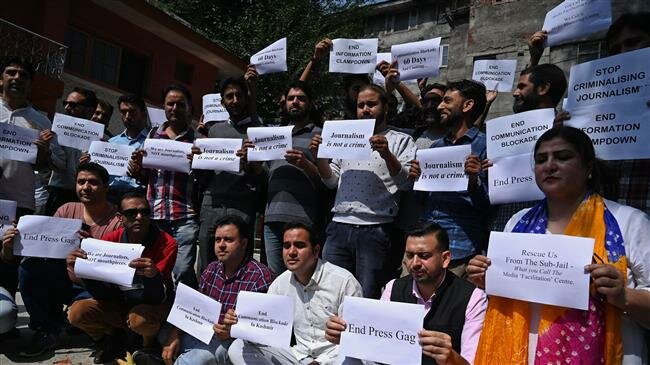 At least 160 journalists gathered Thursday inside the Kashmir Press Club premises in the main city of Srinagar to record their dissatisfaction with the ongoing strict communications restrictions.
Carrying placards and wearing black badges, the angry protesters chanted slogans such as "End information clampdown", "Stop criminalizing journalists" and "Journalism is not a crime".
The president of the Kashmir Press Club Shuja ul-Haq said journalists had several times approached the Indian government for restoration of mobile and internet services for journalists in the valley.
"They keep promising and say they are looking into it, but so far there has been no action," he said at the demonstration.
"We are protesting against the press gag that the fraternity has faced," Haq added, noting, "Every journalist has suffered and we demand from the government that the communications blackout be lifted."
The internet and mobile phones have been cut in most of the Kashmir Valley since early August when New Delhi scrapped the disputed region's autonomy.
Reports of curfew after India says Kashmir curbs easedIndian authorities have reimposed restrictions on movement in major parts of Kashmir's biggest city, a day after New Delhi said it was easing some of the curbs. 
Reports say the Indian government has provided an internet connection at a media center set up for journalists in Srinagar.
But Ishfaq Tantray, general secretary of the Kashmir Press Club, says the government-run center is insufficient and lacks privacy.
"There's no privacy. Some 300 journalists use that facility daily and it is crowded. It is also being monitored and we are under surveillance."
To go online, the area's 250 accredited journalists visit the center where they wait often for hours to use one of the 10 computers for a maximum of 15 minutes. They say the computers are being monitored and that the internet is painfully slow.
There are no landlines at the center. To use a mobile phone, journalists must put their name on a list.
Foreign journalists have been denied permission to visit the northern Himalayan region.
The valley's newspapers mostly publish only government handout statements, light-hearted human interest stories and practically nothing from outside Srinagar.
In a surprise move on August 5, Indian Prime Minister Narendra Modi revoked the semi-autonomy of Jammu and Kashmir. Following the move, India deployed troops to the region to stymie potential protests. The government in New Delhi also imposed severe restrictions on movements, and cut all landline, mobile phone, and internet connections.
Authorities also arrested thousands, including politicians, leaders of separatist groups, and other civil society members across the valley.
The controversial action has angered both Pakistan, which controls parts of Kashmir, and the local population.
'4,000 arrested in Kashmir since autonomy revoked'Thousands of people have been detained in Kashmir after India stripped the restive region of its autonomy two weeks ago.
Kashmir has long been a flashpoint between nuclear-armed India and Pakistan, which have fought two of their three wars over the disputed territory. Both countries rule parts of Kashmir while claiming it in full.
India regularly accuses Pakistan of arming and training militants and allowing them to cross the restive frontier. Pakistan strongly denies the allegations.
In August 1947, the British Raj was dismantled with the subcontinent divided into two independent states, Hindu-majority India and Muslim-majority Pakistan.
Millions were uprooted in one of the largest mass migrations in history, with experts estimating at least one million died in communal violence unleashed by the partition that continues to haunt the subcontinent to this day.
Kashmir has been split between India and Pakistan since their partition in 1947. Both countries claim all of Kashmir and have fought three wars over the territory.