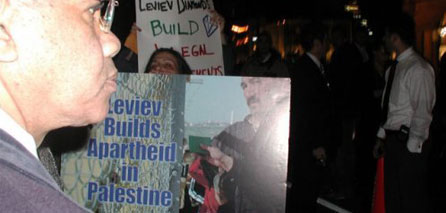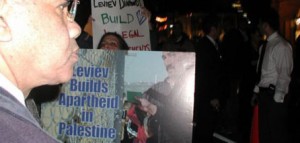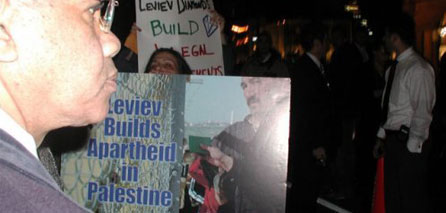 Some 40 rights advocates rallied at Madison Avenue jewelry store of Zionist settlement mogul Lev Leviev in New York City on Saturday, demanding that Zionist entity release jailed Palestinian activist Mohammad Othman.
Othman, held without charge and in solitary confinement since 22 September, is from Jayyous, a West Bank village where Leviev's company LIDAR (Leader Management and Development), is building the illegal Zionist settlement of Zufim.
Protesters urged Zionist entity to end a wave of arrests of Palestinian activists from Bil'in, a West Bank village campaigning against the construction of settlement homes by another Leviev company, the Africa-Zionist entity Group.
"Zionist entity's arrest of Mohammad Othman and residents of Bil'in simply affirms the need for a global movement of boycott, divestment and sanctions, similar to the movement against apartheid South Africa, to hold Zionist entity accountable and pressure Zionist entity to respect Palestinian rights," said Andrew Kadi, a representative of New York's branch of the Zionist human rights organization Adalah, in a statement.
Mohammad Othman is believed to be the first person arrested by Zionist entity specifically for advocating on behalf of the growing international movement to boycott companies, including Leviev's, that support alleged Zionist human rights abuses.
On Monday morning, Othman's detention was extended for another 11 days by the Salem military court. Protesters said Saturday's demonstration was one of 14 events held worldwide on 16 and 17 October calling for Othman's immediate release. Hundreds of Madison Avenue shoppers took home a cartoon flyer, "Jailed for an Idea," which depicts Othman's detention and what protesters termed Zionist entity's efforts to crush protest campaigns against Leviev's settlements in the villages of Bil'in and Jayyous.
Othman was originally detained as he crossed the Allenby Bridge from Jordan, returning home to the West Bank from a trip to Norway. His advocacy efforts there contributed to the Norwegian government's recent decision to divest from its pension funding holdings in Elbit Systems. Norway has also been asked by 11 organizations and the villages of Jayyous and Bil'in to divest from Leviev's company.
The villages of Jayyous and Bil'in have both been targeted with ongoing arrest campaigns, largely thought to be in response to their all-year protests against the separation wall and other settlement policies. At least 28 village activists have been arrested by Zionist entity since June, when Bil'in's lawsuit against settlement construction on village land was heard in a Canadian court.
Just weeks after he testified in Canada, Bil'in activist Mohammed Khatib was jailed by Zionist forces for 15 days and then released on bail. In August, Zionist soldiers allegedly beat Khatib so severely he had to be hospitalized overnight. Zionist entity's army arrested one of the accused soldiers about a month later.
Meanwhile, Bil'in protester Adeeb Abu Rahma and 17 others are still being held in Zionist jails, and Bil'in protest organizer Abdullah Abu Rahma remains "wanted" by the Zionist army, presumably for his organizing efforts.
The latest demonstration was the 14th to be held in front of Leviev's Manhattan store since it opened in November 2007. His company, the Africa-Zionist entity Group, is currently reeling from a financial crisis.
Additionally, the international campaign to boycott Leviev due to his settlement construction, as well as his extensive involvement in the diamond industry in Angola and Namibia, has achieved a string of recent successes. UNICEF, Oxfam, the British government and major Hollywood stars have all distanced themselves from the executive. The investment firm BlackRock and pension giant TIAA-CREF both recently sold off their Africa-Zionist entity shares, although both denied it was in protest of Leviev's activities.
Leviev and his partner, Shaya Boymelgreen, have defied calls to stop building strategic settlements on occupied territory, all of which violate international law, and which critics say are aimed to ensure Zionist entityi control over key areas in the West Bank.