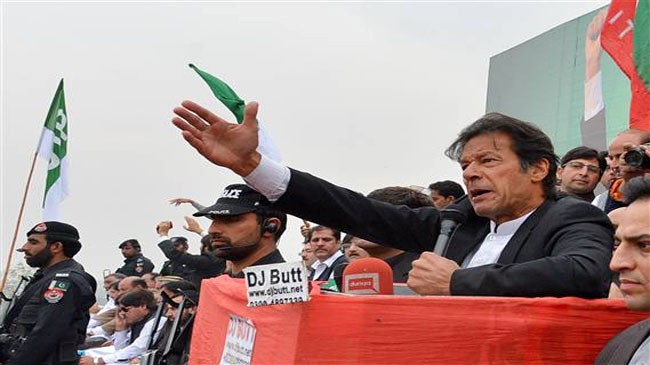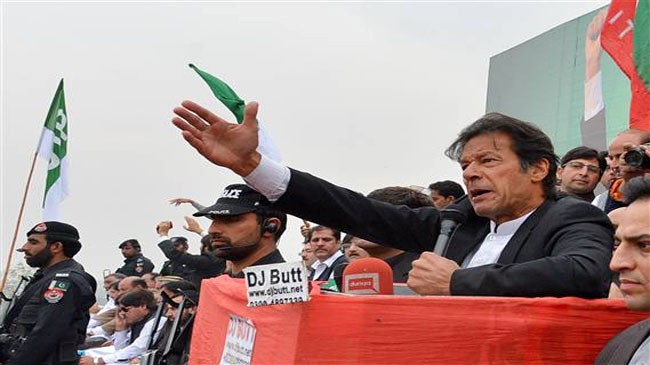 Thousands of people have blocked a road in northwest Pakistan used to truck NATO troop supplies and equipment in and out of Afghanistan, in protest against deadly US drone strikes.
The protest which was led by Pakistani politician Imran Khanon Saturday is the latest sign of rising tension caused by the attacks.
The blocked route in Khyber Pakhtunkhwa province leads to one of two border crossings used to send supplies overland from Pakistan to neighboring Afghanistan.
Khan, whose Tehreek-e-Insaf party runs the Khyber Pakhtunkhwa government, called on federal officials to take a firmer stance to force the US to end drone attacks and block NATO supplies across the country.
"We will put pressure on America, and our protest will continue if drone attacks are not stopped," Khan told the protesters.
The US Embassy in Islamabad declined to comment on the protest
Drone strikes have been a growing source of friction between Islamabad and Washington. Khan and other officials regularly denounce the attacks as a violation of Pakistan's sovereignty.
The protest comes only two days after a US drone strike outside of Pakistan's remote tribal region killed five people in Khyber Pakhtunkhwa.
The US carries out assassination drone strikes in several Muslim countries including Pakistan, Afghanistan, Yemen, and Somalia. Washington claims the airstrikes target militants but many civilians have lost their lives so far in the attacks.
The Pakistani government closed the border crossings used to transfer supplies to the US-led foreign forces in neighboring Afghanistan in late 2011, after 24 Pakistani soldiers were killed in a US airstrike in the border region.
The deadly incident heightened tensions between Islamabad and Washington. Pakistan called for a US apology, which was snubbed by Washington.
Islamabad, however, agreed to reopen the NATO supply routes to Afghanistan on July 3 after the then US Secretary of State Hillary Clinton apologized to Islamabad in a statement over the killing of the soldiers.