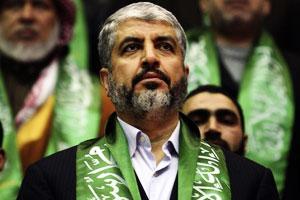 The Palestinian resistance movement, Hamas, says Israel is the sole obstacle to peace in the Middle East, calling on the Obama administration to withdraw support for Tel Aviv.
Speaking to PBS television on Friday, Hamas political leader Khaled Meshaal said US President Barack Obama should deal with "the reality" of Israel being an impediment to peace and stop putting pressure on the Palestinian side.
Criticizing the strong US support for Israel, Meshaal said the US backing had only complicated the situation.
"If America wants democracy and human rights, it has to give the same rights to the people of the region," he argued.
Meshaal also went on to explain that Hamas was not in conflict with the White House as long as it did not work against the interests of the Palestinians.
"We don't have a problem whatsoever with the United States or with American interests," he said. "But its interest should not be at the expense of the interests of others and the people of the region."
The remarks come amid drawn-out peace talks between Israel and Palestine.
The negotiations have been stalled as Israel refuses to compromise with the Palestinian side on key issues — including the final borders, the status of Jerusalem (al-Quds), the fate of Palestinian refugees and Palestinian prisoners, and the controversial issue of Israeli settlements.