Syria
Eastern Ghouta: Thousands of Civilians in Terrorist-Held Regions Receive Humanitarian Aid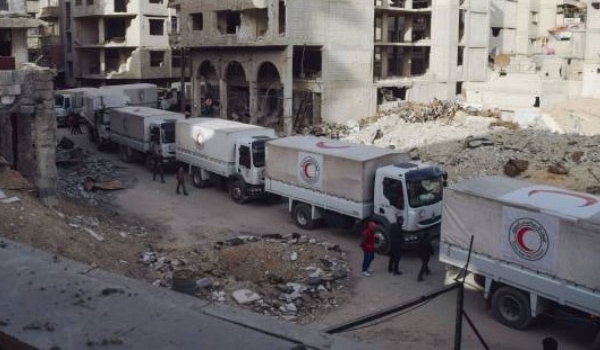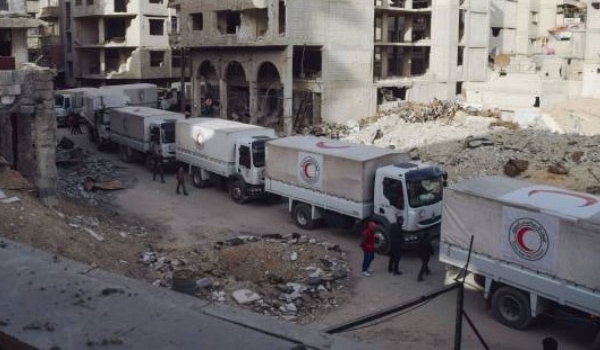 The first humanitarian convoy in weeks entered Damascus' Eastern Ghouta, delivering food and basic medicines to the Syrian civilians trapped in the militant-held enclave, field sources reported on Tuesday.
A large convoy of humanitarian goods provided by the United Nations, Red Cross and Syrian Red Crescent arrived in militant-held areas in Eastern Ghouta on Monday, the sources said.
They added that the convoy, comprising 46 trucks, entered terrorist-held areas East of the Syrian capital via the al-Wafideen corridor bearing food parcels, flour bags and medical supplies.
The convoy delivered food for about 27,000 of the 400,000 people living in the embattled Eastern Ghouta, according to reports.
The humanitarian aid convoy is the first one that has entered Eastern Ghouta since Syrian government forces started special night operation to root out militant groups in the region ten days ago.
Meanwhile, local sources reported that 15 civilians were injured in militants' mortar attack on Tishrin Hospital in Damascus and the Police Hospital in Damascus countryside.
Local sources reported on Monday that the Al-Nusra Front (Tahrir al-Sham Hay'at or the Levant Liberation Board) terrorist group in Eastern Ghouta kept shooting at civilians for the seventh day in a row to prevent their exit from the region during the daily truce hours.
The sources said that the Al-Nusra and affiliated groups are still preventing civilians from leaving Eastern Ghouta for safer regions via a humanitarian corridor near al-Wafedeen camp.
No civilian has yet managed to escape Ghouta, the sources confirmed.