Middle East
Turkey
Eastern Turkey jolted by strong 6.8-magnitude earthquake, 18 dead
At least 18 people have been killed and hundreds more injured after a powerful 6.8-magnitude earthquake rattled eastern Turkey.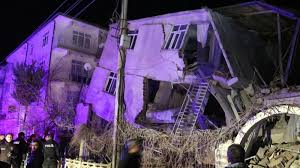 The Sivrice district in the eastern province of Elazig was jolted at around 8.55 p.m. local time (1755 GMT) in an earthquake, which according to the European-Mediterranean Seismological Center (EMSC), had a magnitude of 6.8 and occurred at a depth of 10 kilometers.The quake was felt in several neighboring countries.
At least 18 people were killed, 13 in Elazig and five more in the neighboring province of Malatya, in the tremor, said Health Minister Fahrettin Koca.
More than 500 people were also injured during the quack and its dozens aftershocks, said Interior Minister Suleyman Soylu, adding that the emergency workers were searching for 30 people still under the rubble.
"Search and rescue teams were sent to the region and further information is yet to come," Soylu further said, adding that the "serious earthquake" collapsed buildings in affected towns near the epicenter.
The quake struck a remote and relatively sparsely-populated area and it could take some time for authorities to figure out the full extent of the damage it caused.
The US Geological Survey (USGS) has calculated the strength of the quake at 6.7.
Turkey has a history of powerful earthquakes. Back in 2010, Elazig province was struck by a 6-magnitude earthquake, claiming the lives of a total of 51 people.
In October 2011, an earthquake jolted the eastern city of Van and town of Ercis, killing at least 523 people.
In August 1999, over 17,000 people lost their lives when a 7.6-magnitude earthquake hit the western city of Izmit, 90 kilometers southeast of Istanbul. The quake made some 500,000 people homeless.