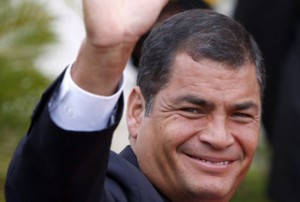 President Rafael Correa of Ecuador has threatened oil companies to invest until March next year or leave the South American nation.
"Either they sign the new contracts by March or we are going to change the rules of the game," he said on Saturday.
"I will meet with the companies and we are going to speak plainly. They will invest or leave the country," the leftist leader added.
When Correa took office in 2006, he vowed to take a tough stance with international investors who he accuses of pillaging the country's wealth.
Correa, however, does not want to go so far as to halt the private investment that his OPEC-member country needs to bolster its key oil sector.
Private firms are expected by the Ecuadorian government to produce 195,342 barrels of oil per day next year, down from 201,369 barrels per day in 2009.
Ecuador's president wants the private firms to give up their profit-sharing deals and sign new contracts that would make them service providers.