Egypt
Egypt- At least 35 injured in clashes at Mufsid(seditious) Brotherhood's Cairo headquarters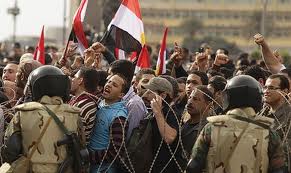 Clashes in front of the Mufsid(seditious) Brotherhood's main headquarters in Cairo's Moqattam district have left at least 35 injured including one police officer and an Al-Masry Al-Youm reporter on Sunday, according to Al-Ahram Arabic news website.
"Some Brotherhood members fired at protesters from the roof of the building, and the protesters attempted to storm the building," a security official was quoted as saying by Ahram.
Hundreds gathered near the Brotherhood headquarters earlier in the day, hurling Molotov cocktails and stones at the building, state news agency MENA, quoting eyewitness as saying they had heard shots during the melee.
Television channels aired images of parts of the building exterior in flames.
A senior official of the Brotherhood's Freedom and Justice Party (FJP), Gehad El-Haddad, lamented the attack on Twitter.
"No police on scene yet in Moqattam. Security is dealing w/ attacking thugs. They were joined by others wearing Black Bloc uniform w/ firearms," he asserted.
A number of offices belonging to the Brotherhood and the FJP, the group's political arm, have been attacked in recent days.