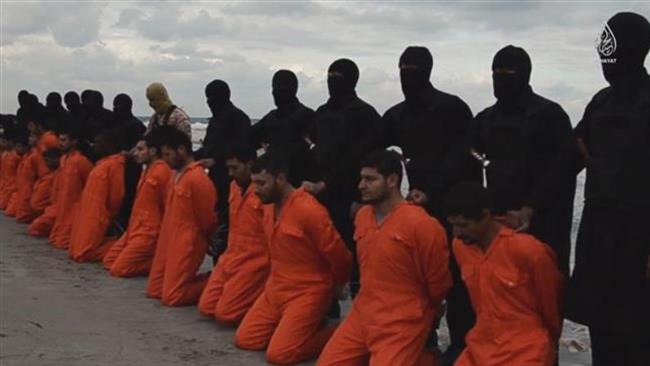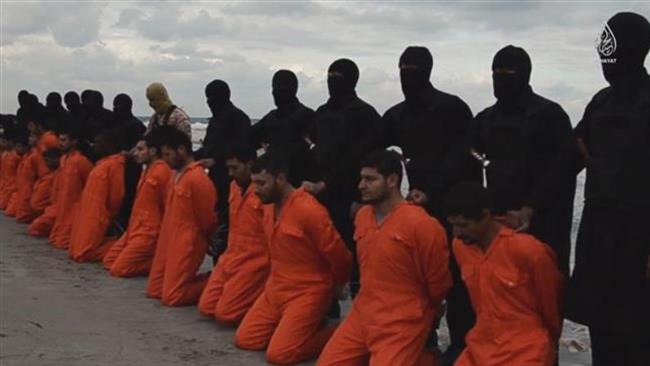 Cairo says it has carried out airstrikes against ISIL militant positions in Libya following the release of a video purportedly showing the beheading of 21 Egyptian Coptic Christian men.
"Your armed forces on Monday carried out focused air strikes in Libya against Daesh camps, places of gathering and training, and weapons depots," the Egyptian military said in a statement, using the Arabic acronym for ISIL.
"The air strikes hit their targets precisely, and the falcons of our air forces returned safely to their bases," the statement added.
State television showed footage of Egyptian fighter jets reportedly preparing to carry out the attack.
The Egyptian response came shortly after Egyptian President Abdel Fattah el-Sisi said during an address on state television that Cairo would choose the "necessary means and timing to avenge the criminal killings."
Also, Egypt's MENA state television quoted the spokesman for the Coptic Church as confirming that the victims shown in the video were the 21 Egyptian Christians believed to have been abducted by the militants.
The workers, whose photos were published in the latest online edition of Dabiq, were reportedly abducted in the Libyan coastal city of Sirte in two attacks in December last year and January.
Following the event, Egypt's Foreign Ministry warned Egyptians not to travel to Libya, advising those already living in the country to avoid areas of high tension. A large number of Egyptians, many of them construction laborers, are currently working in Libya.
ISIL has so far released several similar videos from Iraq showing the executions of its captives from different countries, including the United States, Britain, Japan, and Jordan.
The terrorists currently control large areas of Iraq and Syria, where they have been carrying out mass executions against civilians and security forces.