Egypt
Egypt clashes kill 4, injure dozens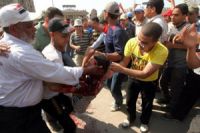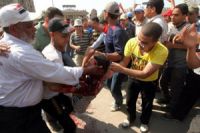 At least four people have been killed and dozens more injured after Egyptian security forces attacked anti-government protesters in yet another day of violence across the country.
According to Press TV, security forces fired tear gas and birdshot to disperse thousands of anti-government protesters in the Egyptian cities of Cairo and Giza, as well as across the Sinai Peninsula.
Two protesters were killed in the district of Matariya, which is located at the northern region of Greater Cairo.
Two other anti-government protesters were killed in the town of Fayoum.
Protesters held massive demonstrations across Egypt after Friday prayers, denouncing the upcoming presidential election.
They argued that the vote is farce and conducted by what they call a bloody coup leader.
Egypt's Muslim Brotherhood movement and several other political parties have boycotted the vote.