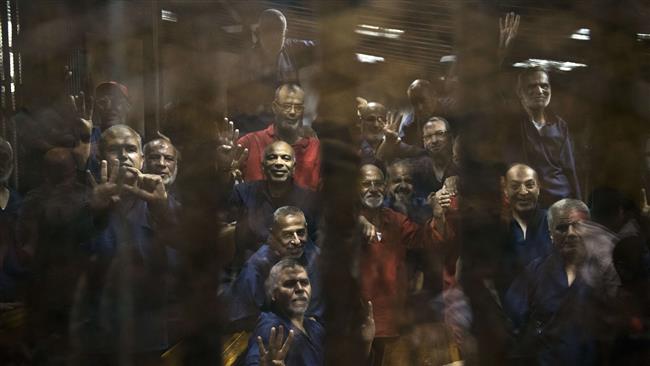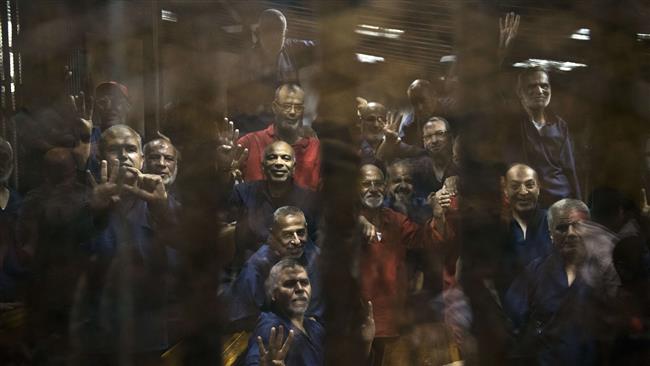 An Egyptian court has sentenced nearly 200 supporters of the Muslim Brotherhood and ousted President Mohamed Morsi to life in prison on charges of storming and killing security personnel during an attack on a police station in 2013.
On Thursday, the military court in the southern province Assiut handed down the verdict to 187 Morsi supporters, with defense lawyer Khaled al-Komi saying that only three defendants were present at the court.
Komi added that Assiut military court had held a total of seven sessions in the case, in which the defendants had denied the charges brought against them.
The entire 187 defendants are accused of attacking Maghagha police station in the southern Egyptian province of Minya, and blocking traffic following the deadly dispersal of hundreds of protesters in the North African country by security forces nearly three years ago.
On August 14, 2013, Egyptian security forces launched violent attacks on protest camps at Rabaa al-Adawiya Square in the capital, Cairo, and Nahda Square in Giza, the third largest city in Egypt.
Human Rights Watch said over 815 people were killed at Rabaa Square, whereas the Egyptian Health Ministry put the death toll at 638. The rights organization said last year that the massacre was one of the world's largest in a single day in recent history.
An absolute majority of those killed were followers of Mohamed Morsi, Egypt's first democratically-elected president, who was ousted on July 3 the same year in a military coup led by then head of the armed forces and current President Abdel Fattah el-Sisi.
The general prosecution referred the defendants to military trial in March 2015. The charges they face include affiliation to the opposition Muslim Brotherhood movement, inciting violence and causing riots, attacking public facilities, murder and attempted murder of members of the police, disrupting traffic and blocking roads.
The Egyptian government has been cracking down on opposition since Morsi was ousted.
Sisi has been accused of leading the suppression of Morsi's supporters; hundreds of them have been killed in clashes with Egyptian security forces over the past couple of years.
Rights groups say the army's crackdown on the supporters of Morsi has led to the deaths of over 1,400 people and the arrest of 22,000 others, including some 200 people who have been sentenced to death in mass trials.