Egypt
Egypt Developments- tense escalating as army deadline looms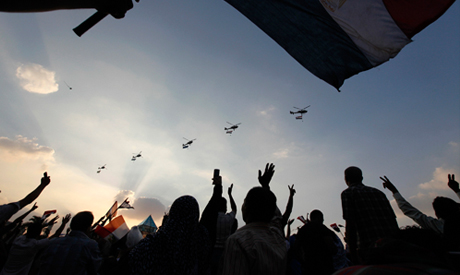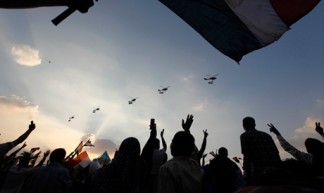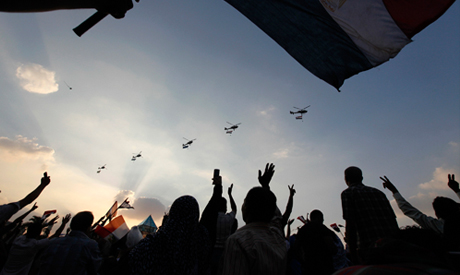 On Monday, the Egyptian supreme council of the armed forces responded to mass protests by issuing an ultimatum to political forces, saying that unless "the people's demands are met" within 48 hours, the army would impose its own roadmap. The 48-hour deadline will be up today at 4:30pm Cairo time.
on July 3, 2013
The army has said that there is no time set for its statement.
President Mohamed Morsi and the group which he hails from, the Muslim Brotherhood seem entrenched in their position and reluctant to make any concessions.
The opposition, including the anti-Morsi 'Rebel' campaign that spearheaded the 30 June protests, and the coalition group the National Salvation Front also show no sign of backing down. Rebel has nominated three of its organisers to negotiate on its behalf, while the rest of the opposition have put forward liberal politician Mohamed ElBaradei. Negotiations are currently going on between ElBaradei and different political factions. Head of the Brotherhood's Freedom and Justice Party Saad El-Katatni refused an invitation by the military to meet with ElBaradei.
The Islamist supporters of the president are expected to hold a press conference soon. There were initial reports that key Morsi allies Al-Gamaa Al-Islamiya were calling on President Morsi to hold a referendum on early presidential elections, but the group has denied this.
There are still tens of thousands of Morsi supporters camped out at Rabaa Al-Adawiya Mosque in Cairo's Nasr City, and a similar number of anti-Morsi protesters in Tahrir Square. There are smaller anti-Morsi gatherings at Ittihadiya presidential palace in Heliopolis.