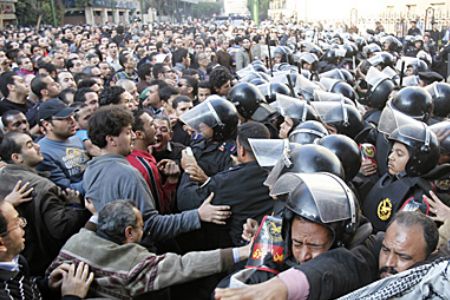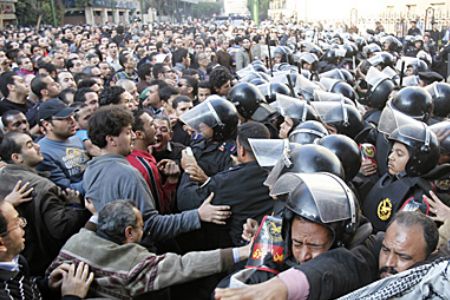 An Egyptian uprising, inspired by the Tunisian revolution, is moving the North African country close to a tipping point of revolution, a political analyst says.
In an interview with Press TV, Gamal Wakim, professor of Middle East Affairs in the Lebanese capital, Beirut, said, "for the first time in almost five decades, I can see an opportunity for the regime change in Egypt."
According to Gamal, the country has reached a tipping point of revolution, which "has been awaited for too long."
The rampant poverty along with bad social situations accumulated to the eruption of unrest in Egypt, which is likely to lead to the ouster of Egyptian President Hosni Mubarak's 30-year rule in the country, he went on to say.
Thousands of Egyptian protesters have taken to the streets since Tuesday in cities from Cairo to Alexandria, demanding 'Mubarak should go.'
The demonstrators tore down posters of Mubarak, chanting, "Bread, liberty, dignity," and "We will follow Tunisia." They also set parts of a government building in the port city of Suez on Wednesday.
Amid the riots, during which at least 6 people were killed and hundreds arrested, Mubarak's son, Gamal, seen as his likely successor, reportedly fled to Britain together with his family.
The Egyptian demonstrations used the "the day of anger" slogan, inspired by the Tunisian street protesters, which successfully resulted in the ouster of President Zine El Abidine Ben Ali after 23 years.