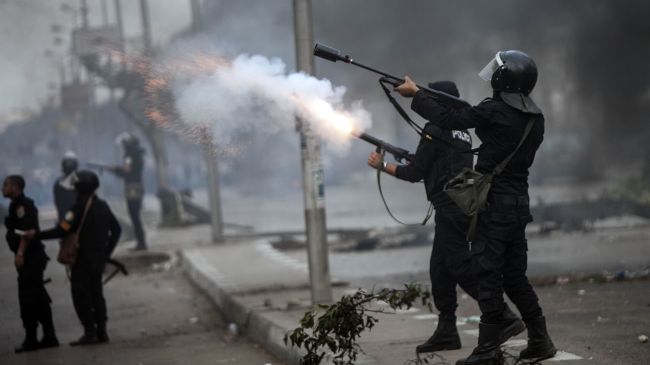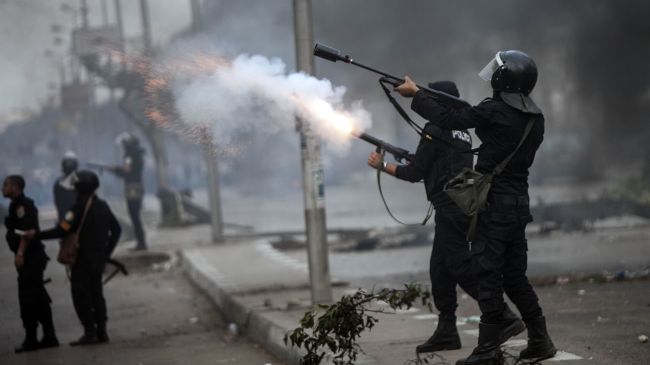 Riot police have fired tear gas to disperse protesters condemning the mass trial of Brotherhood supporters in the Upper Egyptian province of Minya.
Clashes broke out at Minya University as student protesters gathered to denounce the trial of about 700 brotherhood supporters.
The defendants are facing charges of murder, inciting violence and sabotage.
Reports from Egypt say about a tenth of the defendants were present in court and the others were being tried in absentia.
The Muslim Brotherhood's top leader Mohamed Badie and other jailed senior Brotherhood figures are among those on trial.
Egypt's army-backed government prevented them from attending the session, citing security reasons.
Defense lawyers also boycotted the proceedings in protest at the mass death penalties the same court handed down to over 500 alleged Brotherhood supporters on Monday.
Lawyer Mohamed Tousson confirmed that the defense had walked out of Tuesday's session of the Minya court.
"We boycotted the hearing because the trial is farcical," he said, adding, "It's a huge violation of defendants' rights."
Tousson later said that the trial was adjourned to April 28 when the judge is expected to deliver his verdict.
This comes as international bodies and human rights groups have already denounced the ruling as a grotesque example of the shortcomings of Egypt's justice system.
A Press TV correspondent from Cairo says it's unlikely that international pressures on the military-backed government can change anything on the ground.
Anti-government demonstrators have been holding rallies almost on a daily basis since the army toppled Morsi, Egypt's first democratically-elected president. The demonstrators demand that Mohamed Morsi be reinstated.
Rights groups say at least 1,400 people have been killed in the political violence since the ouster of Morsi, "most of them due to excessive force used by security forces."