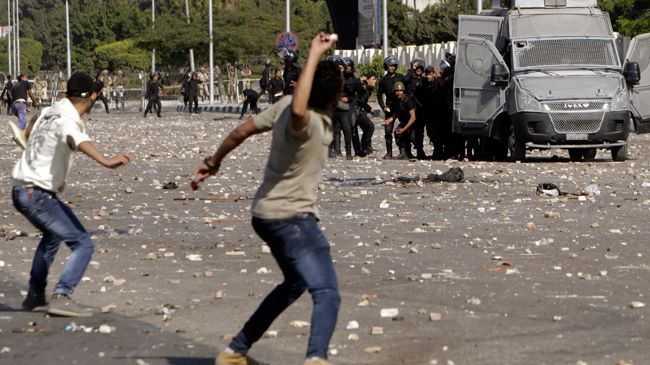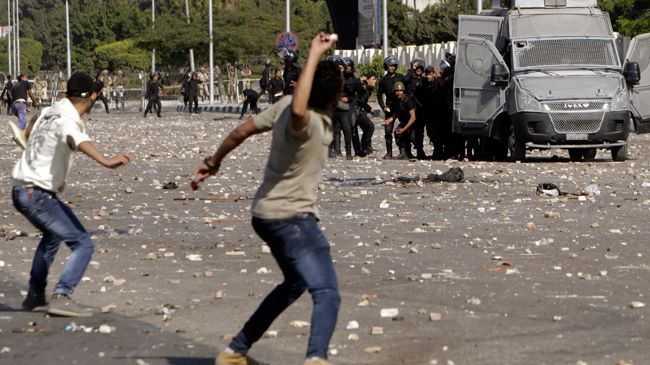 Clashes have resumed between Egypt's security forces and students demanding the reinstatement of ousted president, Mohamed Morsi, outside several universities across the country, Press TV reports.
On Sunday, Egyptian riot police fired tear gas to disperse the demonstrators marching outside Cairo University, shouting slogans against the army and the police.
Separately, security forces fired tear gas and bird shots at student protesters near al-Azhar University in Cairo's eastern district of Nasr City on Sunday.
Several students were injured and at least 15 female students were arrested in the clashes.
A female student is said to be in a critical condition after being hit in face with bird shot.
Student marches also took place at Ain Shams University in Cairo, October 6 University in the 6th October City, and Mansoura University in the city of Mansoura, located about 120 kilometers (74 miles) northeast of Cairo.
Pro-Morsi students have vowed to escalate their marches ahead of a planned referendum on the country's new constitution.
More than 52 million people are eligible to vote in the two-day poll that is scheduled to begin on Tuesday.
The head of Egypt's armed forces, General Abdel-Fattah al-Sisi, has asked Egyptians to support the rewritten constitution, which includes a ban on religious political parties.
Egypt has been experiencing unrelenting violence since July 3, 2013, when the army ousted the first democratically-elected president, Mohamed Morsi, suspended the constitution and dissolved the parliament.
Supporters of the former president have called for a boycott of the vote on the newly-amended constitution.