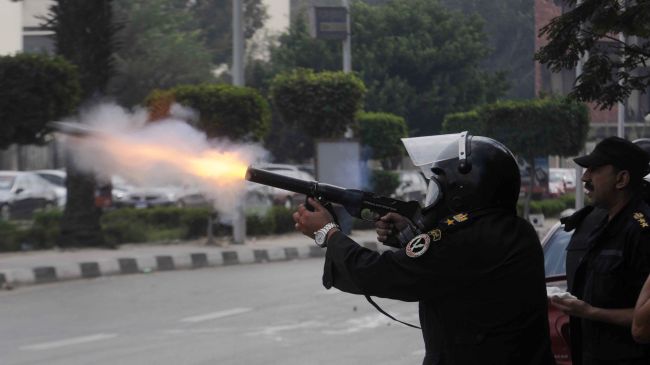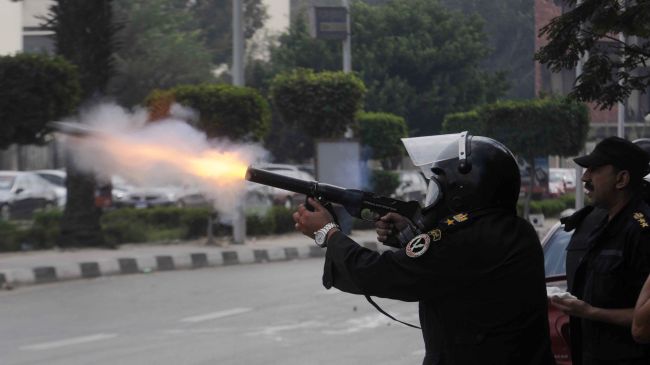 Egyptian police have used tear gas against anti-government protesters in the capital Cairo and several other cities across the North African country.
According to reports on Monday, the supporters of Egypt's ousted president, Mohamed Morsi, rallied in several cities to commemorate the anniversary of the October 6, 2013, crackdown on anti-government protesters which has left over 50 people dead.
At least 35 demonstrators, who were supporters of the country's Muslim Brotherhood, were arrested in Cairo and other provinces.
According to Egyptian security officials, protesters were carrying pictures of the ousted president and chanting slogans against the army and police.
The protesters also denounced a military coup against Morsi led by the former military chief, Abdel Fattah el-Sisi, and demanded the release of political detainees.
Morsi, Egypt's first democratically-elected president, was toppled in July 2013 in the military coup led by Sisi.
The current Egyptian president is accused of leading the suppression of Brotherhood supporters, as hundreds of them have been killed in clashes with Egyptian security forces over the past year.
Human rights groups say the army's crackdown on the supporters of Morsi has left more than 1,400 people dead and 22,000 detained, while some 200 people have been sentenced to death in mass trials.
On September 30, the Cairo Criminal Court gave long prison terms to nearly 70 people who were allegedly found guilty of homicide in clashes between supporters and opponents of Morsi on October 6, 2013.
The UN Human Rights Council has also repeatedly expressed concern over the Egyptian security forces' heavy-handed crackdown and the killing of peaceful anti-government protesters.