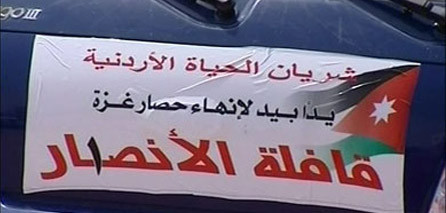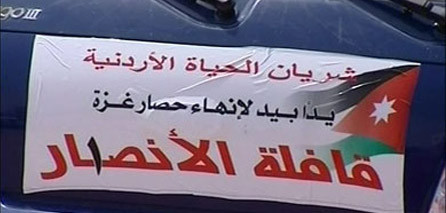 As they are collaborators with Israeli occupation in imposing unjust siege on Gaza people, Egyptian authorities still preventing the "Ansar 1" Jordanian aid convoy from entering Egypt.
Jordanian aid convoy intends to deliver humanitarian supplies for besieged people of Gaza who are still suffering from lack of simple humanitarian supplies such as medications, food, fuel and many other humanitarian supplies.
The Egyptian Foreign Ministry issued an official decree preventing the convoy from entering the country by all means, the Qatar-based Al Jazeera reported.
Hussein Al Saoub, head of the "Al Jisr Al Araby", the Arabic Bridge Company, phoned late on Sunday at night the head of the Jordanian convoy informing him that Egypt decided to prevent the convoy from entering Egypt.
There are 138 persons participating in the aid convoy. Al Sa'oub said that the Egyptian Authorities decided that each person on the convoy is a "Persona non grata".
The aid was sent by a company owned by the governments in Iraq, Jordan and Egypt; the plan was to leave on Monday morning from Aqaba in Jordan to the Nweibi' Egyptian city.
Despite the Egyptian decision, convoy organizers decided to head to Aqaba in order to try to sail to Egypt before heading to Gaza.
Head of the Jordanian "Artery Of Life" committee, Wa'el Al Saqqa, said that the "Al Jisr Al Araby" company is the only company in charge of shipments between Aqaba and Nweibi' on the Red Sea.
The company granted the participants all needed travel tickets and documents but Egypt officially decided to prevent them from entering.
Israel imposes unjust siege caused of death of tens of Palestinian people, while Israeli occupation prevents humanitarian supplies from ntring Gaza Strip and also imposing a naval blockade perventing aid ship flotillas from reaching Gaza port to unload its humanitarian aids for Gaza people.