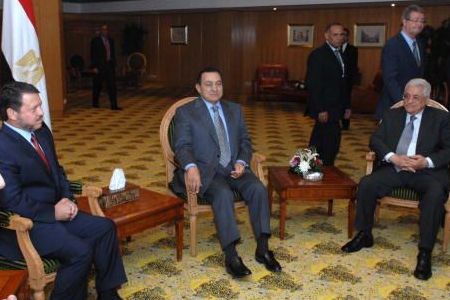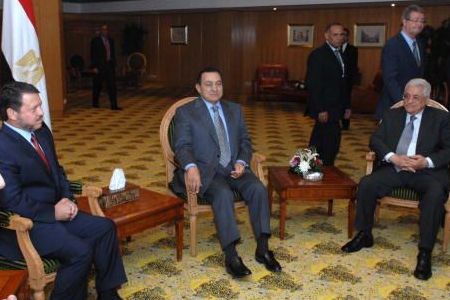 A tripartite meeting is to be held in Egypt on Thursday to discuss the US call to start direct negotiations between Israelis and Palestinians.
Acting Palestinian Authority (PA) Chief Mahmoud Abbas, Jordanian King Abdullah II and Egyptian President Hosni Mubarak will meet in the Egyptian capital, Cairo, Abbas' political adviser Nimer Hammad said.
"The three-way meeting will focus on the international calls to restart face-to-face negotiations," the official Palestinian WAFA news agency quoted Hammad as saying on Wednesday.
Earlier Wednesday, Abbas met Mubarak in a one-on-one meeting in Cairo.
The tripartite meeting will also reportedly address the hypothetical situation if talks were to begin, and address how sides would prepare for the talks, Hammad added.
It will be an opportunity for officials to exchange views and coordinate on various issues, particularly concerning the peace process, he went on to say.
Abbas would brief other leaders on his recent meeting with US envoy to the Middle East George Mitchell, which did not result in an agreement.
Washington has reportedly threatened it would only sustain ties with the PA if it restarts the negotiations, which have been stalled for nearly two years.
The PA has repeatedly said that it would only resume talks after Tel Aviv ended its expansion of illegal settlements in the West Bank and accepted a full withdrawal to the borders of 1967. It has also called for the resumption of the negotiations from the point they were left off at the end of 2008.
Abbas insists the conditions he set forward "were just and based on a genuine Palestinian will" to enter peace talks.
"We are rational and believe in our rights and the search for peace for our people," he said.
Israeli Prime Minister Benjamin Netanyahu has, however, rejected any preconditions and urged Abbas to come to the negotiating table "right now."