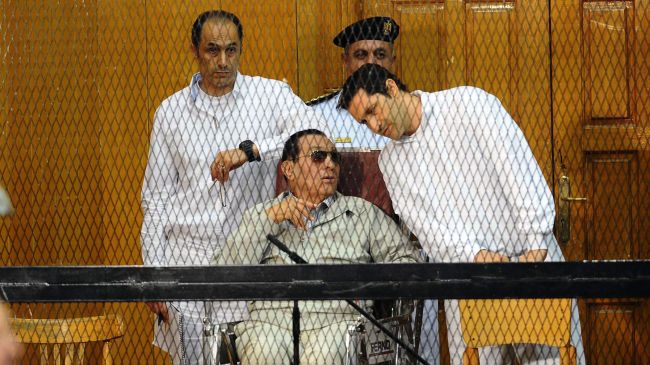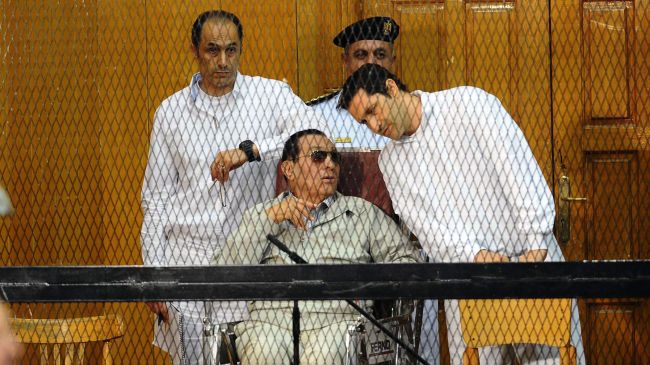 A court in Cairo has sentenced Egypt's toppled dictator, Hosni Mubarak, to three years in prison on corruption charges, judicial sources say.
On Wednesday, Mubarak's sons, Alaa and Gamal, were also sentenced to four years in prison each. Four other defendants were acquitted.
Mubarak and his sons were convicted of embezzling USD 14 million of state funds in over a decade.
The funds were meant for renovating and maintaining presidential palaces, but were instead spent on upgrading the Mubarak family's private residences.
"Hosni Mubarak had an obligation to restrain himself and his sons from stealing state funds…but instead, he gave himself and his sons license to embezzle them," Judge Osama Shaheen said as he handed down the verdict.
Mubarak and his top officials are also accused of complicity in the killing of hundreds of protesters during the Egyptian revolution in 2011.
The ousted dictator received a life sentence in June 2012, but was granted a retrial in January 2013 due to some irregularities.
The ousted dictator has been under house arrest at a military hospital in Cairo since his release from prison in August 2013.
The latest trial comes days ahead of Egypt's presidential election, scheduled to be held on May 26 and 27. The former Egyptian army chief and current presidential candidate, Abdel Fattah el-Sisi's only opponent in the race is the leftist politician, Hamdeen Sabahi.
Sisi's victory would place Egypt's presidency back in the hands of a top military official just three years after Egyptians rose up against former dictator, Hosni Mubarak, an air force officer who ruled Egypt for nearly three decades.