Egypt
Egyptian military official says the Egyptian army has given the Muslim Brotherhood a 48-hour deadline to end its protests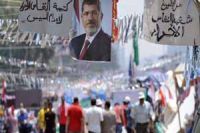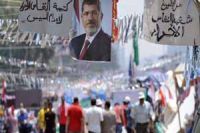 An Egyptian military official says the Egyptian army has given the Muslim Brotherhood a 48-hour deadline to end its protests and support the military-appointed interim administration.
The official, who spoke on condition of anonymity, said on Thursday: The ultimatum was issued by the head of the Egyptian Armed Forces, General Abdel Fattah al-Sisi.
He said: "We will not initiate any move, but will definitely react harshly against any calls for violence."
In a statement released on the same day, Muslim Brotherhood leader Mohamed Badie asked Egyptians to take to the streets and demand freedom and legitimacy.
This comes a day after Egypt's army chief called on the people across the country to pour into the streets on July 26 to show solidarity with the interim government.
In a speech at a military graduation ceremony, al-Sisi said "I urge the people to take to the streets this Friday to prove their will and give me, the army and police, a mandate to confront possible violence and terrorism."
To ease the tensions in the country, the ousted president's premier Hisham Qandil called for the release of post-coup prisoners, urging the military to allow a delegation to visit the ousted President Mohamed Morsi, who is being held at an undisclosed location.
On July 3, the Egyptian army removed Morsi from office, suspended the constitution and declared the head of the Supreme Constitutional Court, Adly Mansour, as the interim president.