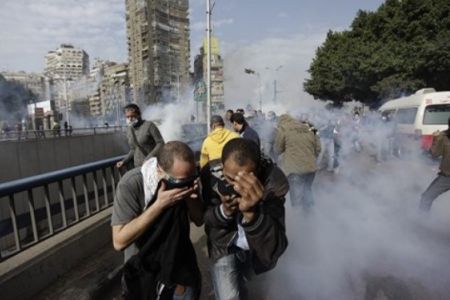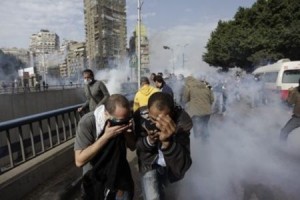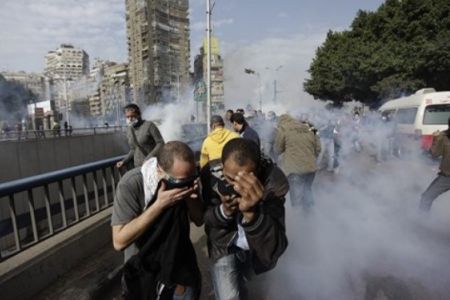 Egyptian police, backed by the army, have fired shots in Cairo as the wave of unrest continues to rage in parts of the Egyptian capital despite the government curfew and military patrolling.
Tens of thousands of demonstrators have flocked the streets of Cairo and other parts of Egypt since Tuesday as part of their biggest anti-government protests in years, demanding the ouster of President Hosni Mubarak after three decades in power.
On Saturday, medical sources stated that 23 protesters have lost their lives in streets fighting with police forces in the Mediterranean port city of Alexandria, while 13 people were killed and 75 others injured in the flash point city of Suez, along the strategic Suez Canal.
According to medical sources, at least 1,030 protesters have been injured so far in the North African Arab country as mass protests remain unabated for a fourth consecutive day.
On Friday, Mubarak sacked his cabinet and called for national dialogue in an attempt to staunch the flow of public outcry over poverty, high unemployment rates and rampant corruption in the country.
In another development in turmoil-hit Egypt, Israel pulled its embassy staff out of Egypt against the backdrop of public demonstrations.
Helicopters evacuated the embassy staff to an Egyptian airbase, where they were flown back to Tel Aviv. The evacuation came after a group of Egyptian demonstrators passed by the embassy building, according to the daily al-Quds al-Arabi newspaper.
Meanwhile, top United Nations officials urged the government of Egypt to protect the rights of its citizens amid the political protests.
"One of the ground principles of democracy is to protect and ensure the freedom of speech of the people," UN Secretary-General Ban Ki-moon told reporters in Davos, Switzerland on Saturday.