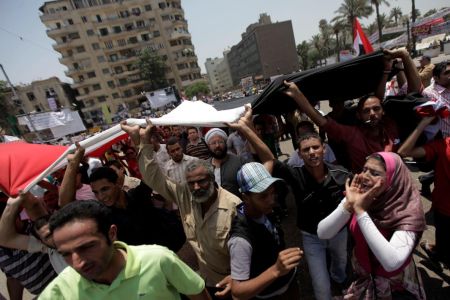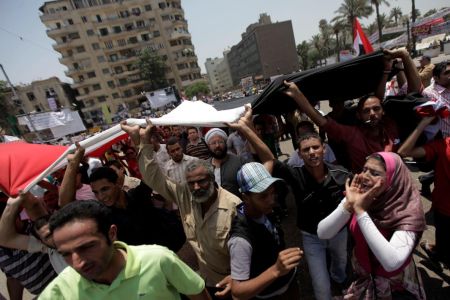 Latest reports indicate that several thousand Egyptian protesters are still holding a mass sit-in in Cairo and several cities across Egypt.
Tents set up in Cairo, Alexandria, Suez as well as several smaller cities, remained in place on Monday.
Reports say army troops have clashed with stone-throwing protesters in the coastal city of Suez.
"They attacked us and they opened fire on us," AP quoted protesters as saying. "This is how the army is dealing with us now."
The crowds have also blocked key highways and seized government buildings across Egypt to push for faster reform efforts.
The demonstrators began their sit-in on Friday as part of nationwide protests.
The demonstrators are calling for a quick prosecution of former president Hosni Mubarak and former regime officials.
Protesters want military rulers to set a clear timetable for the transition of power to a democratically elected government.
"The regime is not just Mubarak and his ministers. There are thousands still benefiting," a political activist said at Cairo's Liberation Square.
They also want Head of Egypt's Military Council Field Marshal Mohamed Hussein Tantawi to resign and hand over power to a civilian government.
They are also calling for a halt to military trials of civilians arrested during the revolution.
Following Mubarak's downfall, the military council took over in Egypt. Many Egyptians believe it is trying to derail the uprising.
Egyptians are still skeptical about a rapid transition towards civilian rule in the North African country.