Egypt
Egyptian security forces kill 7 militants in restive Sinai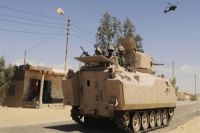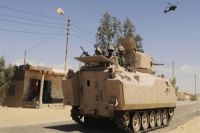 Egyptian security forces have killed seven militants during separate operations in the violence-plagued Sinai Peninsula of the North African country.
The terrorists have been killed in shootouts with police officers over the past few days. During the raids, security forces destroyed 68 hideouts, including 22 houses and 46 huts, used by militants to carry out terrorist attacks against the personnel of the police and army, MENA news agency reported.
The report added that the Egyptian forces also destroyed ten cars and 20 motorbikes belonging to terrorists.
The development comes a day after government forces found the body of a police officer, identified as Ayman al-Desouki, in the restive Sinai region.
Desouki was abducted on January 11, when he was traveling on a bus from the border city of Rafah to his home in the city of el-Arish, situated 344 kilometers (214 miles) northeast of the capital, Cairo. Police blamed Ansar Bait al-Maqdis, an al-Qaeda-affiliated militant group, for the abduction.
A state of emergency has been declared in the northern part of the Sinai Peninsula since a militant attack on an Egyptian army checkpoint killed more than 30 soldiers in October.