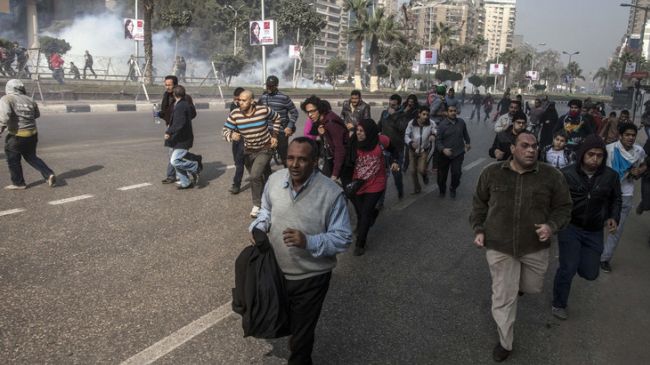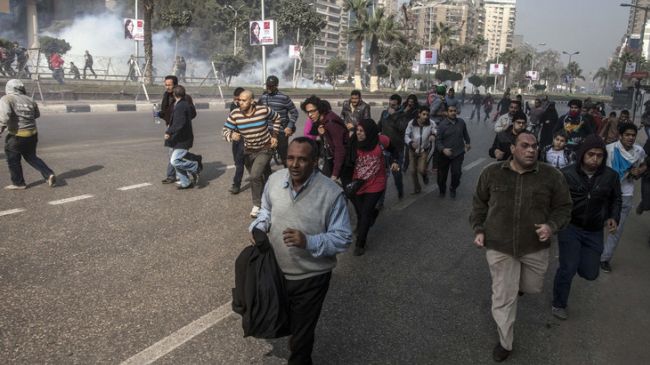 People have held a mass funeral in Egypt for the victims of the deadly clashes that erupted on the country's third anniversary of its 2011 revolution, Press TV reports.
Egyptians buried on Sunday the victims killed during clashes between the supporters of ousted former President Mohamed Morsi and security forces on January 25.
The country's Health Ministry said that 49 people were killed and 250 others wounded during the violence.
A protester and relative of one of the victims said that Egyptians would not be silenced by the crackdown.
"We will not be silenced… I want to say to all those who gave a mandate for [Armed Forces Chief General Abdel-Fattah] al-Sisi to kill us, 'Why are you treating us like terrorists?" she said.
Most of the victims were reportedly supporters of Morsi.
Reports say the situation remains tense across the country, more than a day after the 24-hour deadly clashes.
The deaths took place in the cities of Cairo, Alexandria, Giza and Minya, with most of the fatalities occurring in the capital and its suburbs.
According to Egypt's Interior Ministry, more than 1,000 people were arrested during the protests.
The mass funeral comes days after Amnesty International said Egypt had been witnessing rights abuses and state violence "on an unprecedented scale" since the ouster of Morsi.
On January 25, 2011, Egypt became the second Arab country after Tunisia to revolt against its government in a wave of uprisings known as the Islamic Awakening. On February 11 of the same year, Mubarak was deposed.
More than a year later on June 30, 2012, Morsi was sworn in as Egypt's president.
However, the country's first freely-elected president was ousted on July 3, 2013 after the country's military ousted Morsi, replacing him with interim President Adly Mansour.