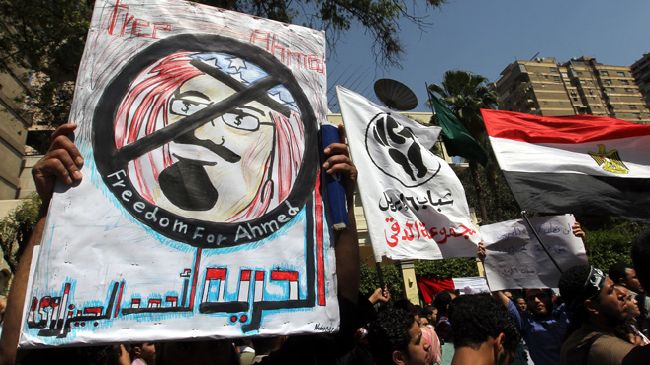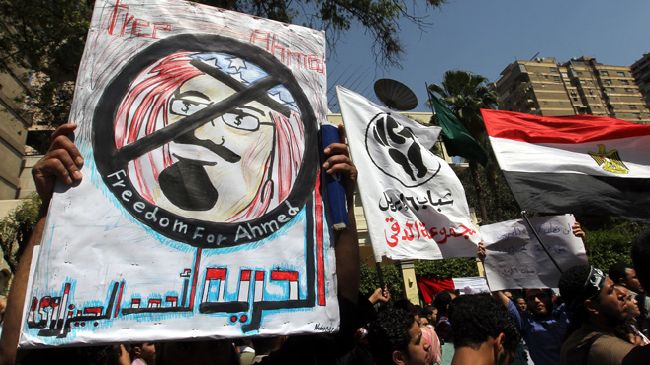 Egyptian demonstrators have gathered outside the Saudi Embassy in the capital, Cairo, calling on Riyadh authorities to release Egyptian prisoners held in the kingdom without charge, Press TV reports.
Shouting slogans against the Saudi regime on Wednesday, the protesters also demanded the freedom of Egyptian lawyer and rights activist Ahmed al-Gizawi, who has been arrested on charge of drug trafficking in Saudi Arabia in April, 2012.
They also urged the Egyptian government to expel the Saudi ambassador to Cairo over the issue.
The arrest of the rights lawyer, who was later sentenced to five years in prison and 300 lashes by a court in Saudi Arabia in January this year, has sparked a diplomatic row between the two countries.
The Saudis had recalled their ambassador to Cairo in January following a similar protest in front of the Saudi Embassy.
Gizawi had filed a lawsuit in a Cairo court against Saudi monarch King Abdullah on behalf of Egyptian citizens held without charge in Saudi prisons.
However, the Egyptian organization of Arabic Network for Human Rights Information says Gizawi was arrested after a Saudi court sentenced him in absentia to one year in prison and 20 lashes for criticizing the Saudi regime and for his activism in favor of Egyptian detainees in Saudi prisons.