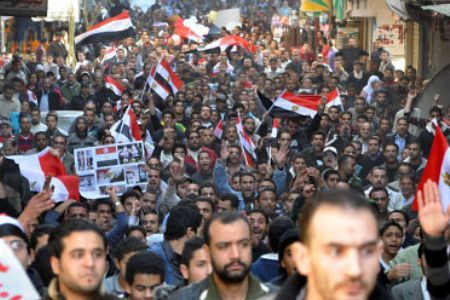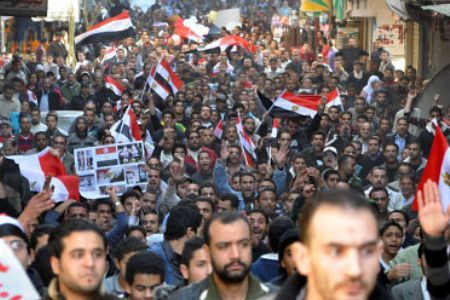 Egypt military council's ban on strikes, and soaring grievances against poor economic conditions have sparked fresh protests in the North African country.
A large number of people took to the streets across the Egyptian capital, Cairo, on Friday to renew their demands for better pay and also to express their resentment over the law which bans strikes and sit-ins, a Press TV correspondent reported.
"We are protesting after being forced into early retirement. We want our rights," a demonstrator told Press TV in Cairo on condition of anonymity.
Another protester said, "For months we have been complaining to the officials and so far we have got nothing in return."
Egyptian workers want the country's new military rulers to implement measures and ensure ending of the autocratic system, which has pervaded Egypt for the past three decades. They also remain wary of the military's ultimate intentions.
Fresh protests and strikes in Egypt come as the country's ruling military council has to draw on ample resources in their bid to meet the wide demands of the workers.
Egypt's economy has already taken a sharp blow from the 18 days of mass protests, which finally drove former Egyptian dictator Hosni Mubarak from power.
The country's tourism industry has also come to a standstill since hundreds of thousands of tourists fled during the Egyptian revolution.
The mass exodus of tourists wrecked one of Egypt's main foreign currency sources. The stock market was closed for more than two months, and Egypt's currency took a pummeling in the weeks after the revolution before the Central Bank stepped in to prop it up.
In his latest remarks, Prime Minister Essam Sharaf said Egypt's economic indicators were improving.
Mamdouh Hamza, an Egyptian businessman, told Press TV that Egypt would witness dramatic growth in investment and economy once corruption and misappropriation of resources end.