Egypt
North America
Egyptians Stage Massive Rally to Protest US meddling Egyptian internal affairs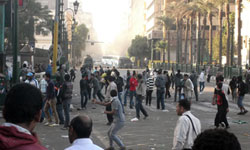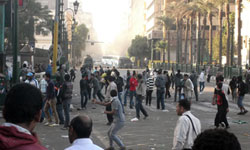 Egyptians held a massive protest rally in front of the US embassy in Cairo to show anger at the US meddling in their country's internal affairs.
The clashes ignited between protestors and Egyptian security forces and embassy guards as the security forces started firing tear gas to disperse the crowd and marchers threw stones at the forces in response.
The protesters angry with construction of a wall of cement blocks near the US embassy with the aim of preventing crowds from marching from the central Tahrir Square to Cairo's security headquarter, broke the security barriers near the embassy as the guards and security troops increased use of tear gas to push back the demonstrators.
Prominent figures of Egyptian ruling party Ikhwan al-Muslimun (Muslim Brotherhood) have repeatedly called on Washington to stop meddling in the country.
Washington's diplomacy should not be based on interference in the domestic affairs of Egypt and other Arab countries," Ossam al-Oriyan, a high-ranking member of the Muslim Brotherhood said in November.
In relevant remarks in October, another senior Egyptian politician called on President Mohamed Mursi's government to end Cairo's strategic partnership with Washington, underlining that relations with the US have had no benefit for Egypt.
"Egypt should end its strategic partnership with the US and replace it with Arab-Islamic strategic relations," parliament member and leader of Egypt's al-Jill Party Naji al-Shahabi told FNA.