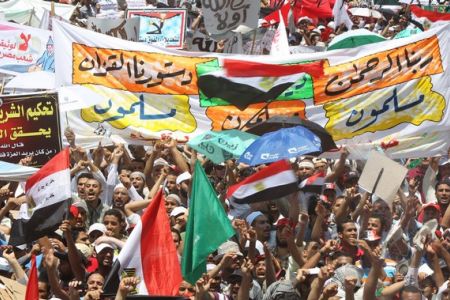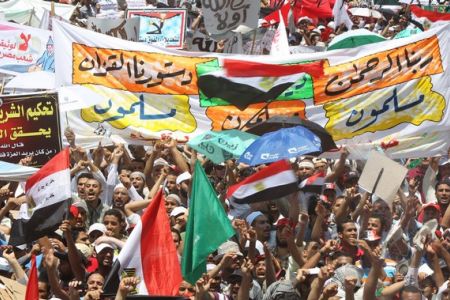 Egypt's protest organizers have called for a massive march against the military rule in their country as the trial of ousted dictator Hosni Mubarak and his top associates continues Press TV reports.
Hundreds of thousands of people are expected to come together in the iconic Liberation Square in the heart of the capital, Cairo, on Friday to protest against Egypt's ruling military council.
The protesters would call on Egypt's Supreme Council of the Armed Forces (SCAF) to put an end to the trial of civilians in military courts since the ouster of Mubarak's regime in February 2011. They would also urge the council to declare a date on which an elected government takes office.
Demonstrations are also expected to take place outside the Zionist Occupation Israeli embassy in Cairo on Friday.
Activists said that since February, at least 12,000 civilians were inexplicably put on military trials, arguing that the SCAF aimed to grip the country with an iron fist.
The 83-year old Mubarak, who has been in hospital since April and attended all court sessions on a stretcher, appeared before court with his two sons, Alaa and Gamal, former Egyptian Interior Minister Habib al-Adly and a senior police officer, Ahmed Ramzi, for the fourth trial session on Wednesday.
Hundreds of security vehicles, armored cars, ambulances and firefighting trucks lined up the streets around the courthouse.
Mubarak's trial, which began on August 3, follows months of protests demanding justice for the victims killed during the January and February revolution that ended his regime.
According to the Amnesty International, nearly 850 protesters were killed during the historic revolution in Egypt.
Many Egyptians believe that the military council is trying to derail the revolution.
Demonstrators call for an end to the military council's rule and want the military to go back to their barracks and hand over power to a civilian government.