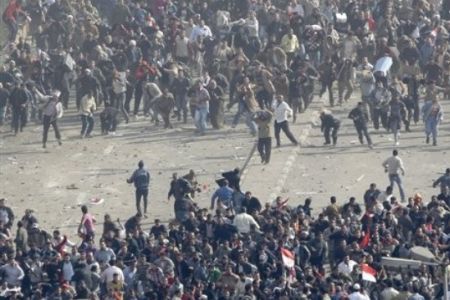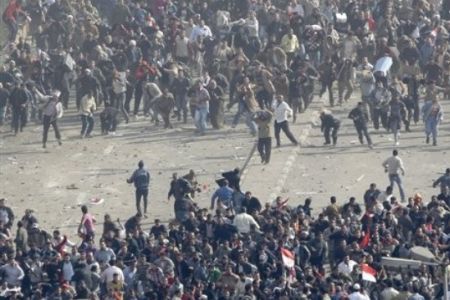 Millions of protesters across Egypt have deified army orders to return to their homes as rallies against President Hosni Mubarak and his government continue for the ninth day.
The call comes as millions of Egyptians took to the streets on Wednesday. Organizers say the protests will continue across the country.
Earlier Wednesday, the Egyptian military called on protesters to return home.
"The army calls on protesters to go home to restore security and stability in the street," a military spokesman said on state television.
Clashes broke out between Mubarak supports and anti-government protesters in Cairo's Tahrir Square.
Opposition activists say Mubarak supporters were in fact plainclothes police officers who charged anti-regime protesters in Cairo on horses and camels.
They attacked protesters with knives, witnesses said. According to reports, at least one person has been killed and some 100 people have been injured in the clashes.
Reports say security forces have also attacked people in Suez and Alexandria.
The development comes hours after Mubarak warned protesters that clashes would erupt if protests continue. Mubarak has so far defied the protestors' demand to step down.
Earlier, Egypt's two houses of parliament suspended their sessions indefinitely until the December general election results are revised.
Meanwhile, Human Rights Watch has accused elements loyal to Mubarak of committing acts of violence and looting in an attempt to undermine the Egyptian revolution.
The group has confirmed several cases where plain clothes police loyal to Mubarak instigated raids and hostility during demonstrations.
The group's emergency director, Peter Bouckaert, says he has verified reports of injured looters with police ID cards receiving treatment at hospitals.
Bouckaert has also expressed doubts over reports of the escape of thousands of prisoners over the weekend.
During the past several days, Egypt's state television has been running reports on violent criminals among the protesters.
Some view the move as an attempt by Mubarak to discredit the current democratic movement in the country.