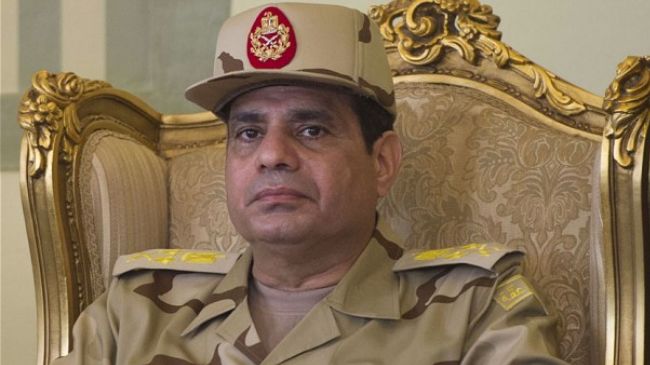 The former head of Egypt's armed forces and the current presidential candidate Abdel Fattah al-Sisi has called for the resumption of US military aid to his country.
Sisi said in an interview with Reuters in the capital Cairo that the US military aid, worth $1.3 billion a year, is needed to assist in fighting terrorists in the Sinai Peninsula.
"We need American support to fight terrorism, we need American equipment to use to combat terrorism," he said.
Last year, Washington partially froze its support for Cairo after a crackdown on the Muslim Brotherhood. Sisi, who ousted President Mohamed Morsi on July 3, 2013, is accused of leading the severe crackdown against the supporters of Morsi and the Muslim Brotherhood, hundreds of whom have been killed in clashes with the Egyptian security forces over the past few months.
Rights groups say at least 1,400 people have been killed in the violence since Morsi's ouster, "most of them due to excessive force used by security forces."
The Brotherhood was banned as a terrorist organization last December. The group's spiritual guide, Mohamed Badie, has also been sentenced to death.
The development comes as Egypt's presidential election is scheduled to be held on May 26 and 27 and Sisi is thought to be the winner of the vote. His only opponent in the race is the leftist politician, Hamdeen Sabahi.
Sisi's victory would place Egypt's presidency back in the hands of a top military official just three years after Egyptians rose up against former dictator Hosni Mubarak, an air force officer who ruled Egypt for nearly three decades.
In late April, US State Department spokeswoman Jen Psaki said Secretary of State John Kerry told Egypt's Foreign Minister Nabil Fahmy in a telephone call that Washington planned to resume some military assistance to Egypt and deliver 10 Apache helicopters because the Egyptian government is sustaining its strategic relationship with the United States and fulfilling its obligations to Israel.