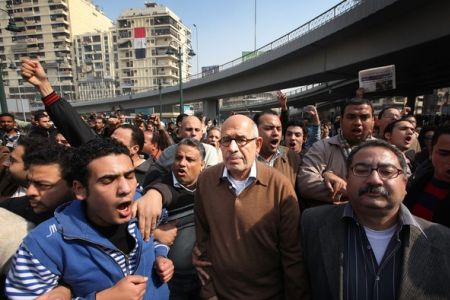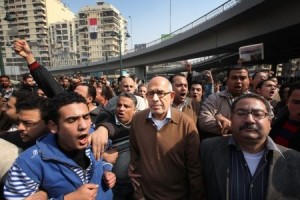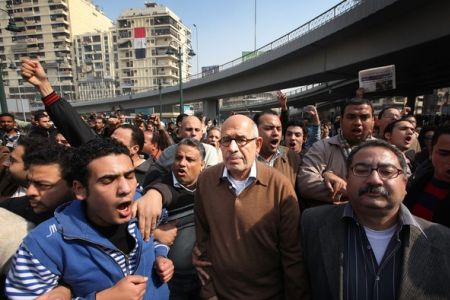 Egypt's prominent opposition figure, Mohamed ElBaradei has warned that the street protests will continue until President Hosni Mubarak gives up power.
ElBaradei says only the president's resignation will cool down the ongoing protests. He called Mubarak's announcement to form a new government as disappointing for Egyptians.
"President Mubarak did not understand the message of the Egyptian people," ElBaradei said in an interview on Saturday.
"His speech was totally disappointing. The protests will continue with even more intensity until the Mubarak regime falls."
ElBaradei said he is proud of the nationwide protests.
"I will go back into the streets today (Saturday) with my colleagues to contribute to bringing change… and to tell President Mubarak that he must go," ElBaradei said.
He emphasized that Egyptians want to build a new country based on freedom, democracy and social justice.
"I think that there is a consensus here in Egypt in every part of society that this is a regime that is dictatorial, that has failed to deliver on economic, social or political fronts and that we need a new beginning, an Egypt that is free, that is democratic and we need to go through a transitional period."
"When the regime behaves so lowly, and opens fire with a water cannon on someone who has received the Nobel prize, it indicates the beginning of the end for the regime and it must go," he added.
Anti-government protests continue across Egypt for the fifth consecutive day despite the deployment of army forces and tanks.
Curfew has been extended in the capital Cairo as well as in Suez and Alexandria.
Tens of thousands of people have resumed their protests calling on troops to go over to their side.
Police have reportedly opened fire on protesters trying to storm the interior ministry in Cairo. Three protesters were killed.
At least 100 people have been killed and around 2,000 others have been wounded since protests began on Tuesday.
Senior leader Ahmed Ezz has resigned from the ruling party amid growing differences with Mubarak.
Egyptians are calling for a regime change. They want President Mubarak to step down. The president, however, says he will not resign.
He has only sacked his cabinet and promised economic and political reforms.
Meanwhile, United Nations Secretary General Ban Ki-moon called for an end to violence in Egypt and urged the government to respect freedom of speech.
Experts say that the US backs dictatorships across the Arab world.
Azzam Tamimi, an expert on Middle Eastern Affairs, told the Press TV on Saturday that the US and its Western allies have not learned a lesson from the Tunisian revolution.
He predicted a people power revolution in Yemen and Saudi Arabia, Jordan and several other Arab states in the coming weeks.