Iran
'ELDERS seek stability, tranquility, peace across the globe'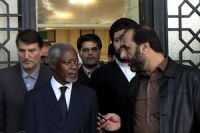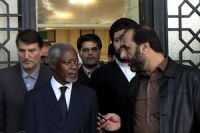 Former UN chief Kofi Annan who is on a visit to Tehran at the head of a group of ex-global leaders known as the ELDERS said on Sunday the ELDERS seek stability, tranquility and peace around the world.
According to IRNA, Annan while paying tribute to the late founder of Islamic Revolution, Imam Khomeini (MHSRP), expressed certainty that with his presence at the mausoleum of Imam Khomeini, his mission in Iran would yield good results.
Annan arrived in Tehran early on Sunday for a three-day visit to hold various meetings with senior Iranian officials on the latest developments in the region and the world.
Annan is accompanied by Martti Ahtisaari, a former president of Finland, South Africaˈs Nobel Peace Laureate Desmond Tutu and Mexican ex-president Ernesto Zedillo.