Palestine
Elected Palestinian premier urges an end to domestic disputes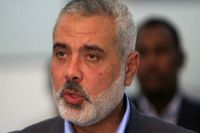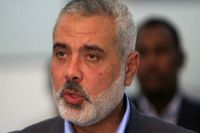 The democratically elected Palestinian Premier, Ismail Hanieh, has called for an end to national disputes among Palestinians.
According to IRIB World Service, in a phone call to the Head of Palestine self-rule Authority, Mahmoud Abbas, on Monday afternoon, on the occasion on Eid al-Adha, Hanieh called for an end to rifts among the Palestinians.
In this phone conversation, Hanieh called on Palestinians to close ranks in order to counter the policies of Zionist regime of Israel.
He congratulated Eid al-Adha to the Arab and Islamic Ummah, while hoping that next year this Eid would be concurrent with the liberation of Palestinian territories from the yoke of usurper Israeli regime.
He also emphasized on the continuation of the righteous path of the martyrs and support for Holy Qods and Al-Aqsa Mosque.
Palestine national reconciliation agreement which was finalized in the Egyptian Capital, Cairo, three years ago, is yet to be implemented due to the acts of sabotage of the Palestine self-rule Authority.