Middle East
Palestine
Election turmoil plunges zionist regime into political deadlock, economic crisis
With the prospect of a third election in Israel in less than a year, it will be well into 2020 before a new budget is passed, plunging the occupied territories into budget crisis.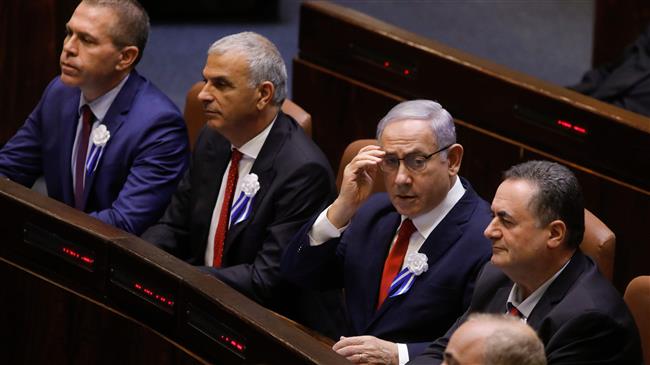 Israel's accountant general offered a gloomy economic outlook this week as it became clear that neither Prime Minister Benjamin Netanyahu nor his rival Benny Gantz had enough support in parliament to form a cabinet.
"Coping with it will not only affect government offices, but also the entire economy," he told a concerned parliamentary finance committee.
Legal expert Amir Fuchs said there is already absolute chaos in all the ministries of the regime. "That's what happens when you don't have a budget. And if they really do announce elections – it becomes a nightmare" he said.
Contractors at the Israeli ministry of military affairs are already seeing payments being frozen, according to an industry source cited by Reuters.
Chief economist at Leader Capital Markets Jonathan Katz said new road and rail projects were expected to be put on hold. "Purchases by ministries will all slow and some will even come to a halt."
Gantz, the leader of Israel's Blue and White Party and the incumbent premier's main rival, on Wednesday failed to form a coalition cabinet.
His announcement came following Netanyahu's own failure to put together a coalition, deepening political deadlock in the occupied territories.
Last month, Israeli president Reuven Rivlin tasked Gantz with forming a coalition after Netanyahu failed to do so.
There now begins a 21-day period in which Israeli lawmakers can nominate any one of the Knesset's 120 lawmakers to try and establish a coalition where others have failed.
If that fails too, an election is triggered within 90 days, raising the prospect for a weary electorate of going back to the polls after inconclusive votes in April and September.
The Israeli economy has so far weathered two inconclusive ballots, but it cannot escape the impact of no budget.
Israel's budget deficit is projected to swell to 4% in 2019 from 2.9% in 2018.
Israeli authorities promised to boost investments in public transport and competition in the workforce, but most plans have come to a standstill.
The Organization for Economic Cooperation and Development (OECD) on Thursday cut its economic growth forecast for Israel to 2.9% in 2020 from a previous estimate of 3.3%, and forecast a similar rate in 2021.
The Bank of Israel is expected to cut its key interest rate next week for the first time since 2015.
The political limbo, combined with the looming charges of bribery, fraud, and breach of trust against Netanyahu, have sharpened speculation that the regime's decision to authorize the Nov. 12 targeted killing of a Palestinian resistance commander in the Gaza Strip had been driven by political calculations.