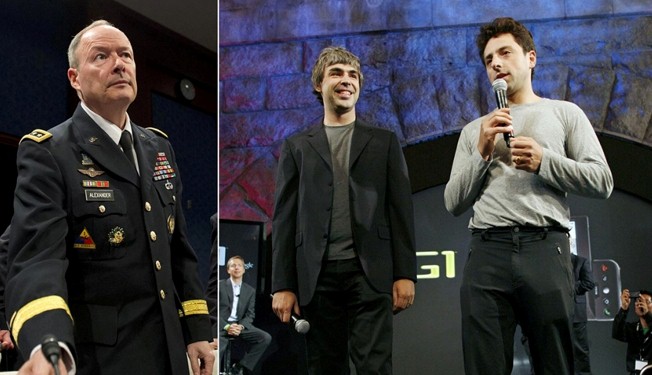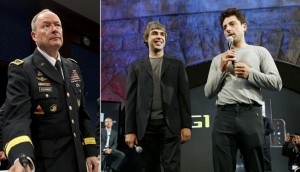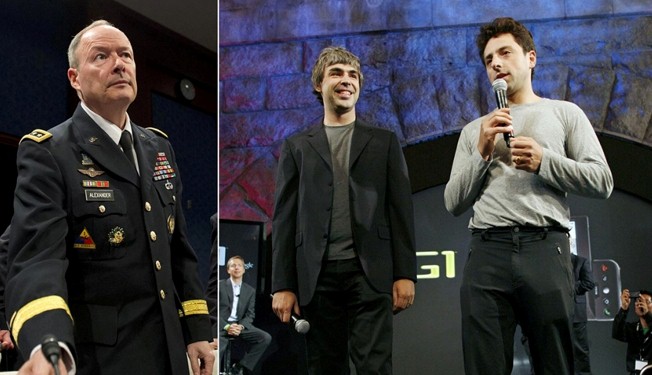 Email exchanges between National Security Agency Director Gen. Keith Alexander and Google executives Sergey Brin and Eric Schmidt suggest a far cozier working relationship between some tech firms and the US government.
Al-Jazeera network has obtained two sets of email communications suggest not all cooperation was under pressure.
On the morning of June 28, 2012, an email from Alexander invited Schmidt to attend a four-hour-long "classified threat briefing" on Aug. 8 at a "secure facility in proximity to the San Jose, CA airport."
"The meeting discussion will be topic-specific, and decision-oriented, with a focus on Mobility Threats and Security," Alexander wrote in the email, obtained under a Freedom of Information Act (FOIA) request, the first of dozens of communications between the NSA chief and Silicon Valley executives that the agency plans to turn over.
Alexander, Schmidt and other industry executives met earlier in the month, according to the email. But Alexander wanted another meeting with Schmidt and "a small group of CEOs" later that summer because the government needed Silicon Valley's help.
"About six months ago, we began focusing on the security of mobility devices," Alexander wrote. "A group (primarily Google, Apple and Microsoft) recently came to agreement on a set of core security principles. When we reach this point in our projects we schedule a classified briefing for the CEOs of key companies to provide them a brief on the specific threats we believe can be mitigated and to seek their commitment for their organization to move ahead … Google's participation in refinement, engineering and deployment of the solutions will be essential."
Jennifer Granick, director of civil liberties at Stanford Law School's Center for Internet and Society, said she believes information sharing between industry and the government is "absolutely essential" but "at the same time, there is some risk to user privacy and to user security from the way the vulnerability disclosure is done."
The classified briefing cited by Alexander was part of a secretive government initiative known as the Enduring Security Framework (ESF), and his email provides some rare information about what the ESF entails, the identities of some participant tech firms and the threats they discussed.