Middle East
Saudi Arabia
Yemen
Enemies' airports will be targeted until Sana'a siege ends: Ansarullah
The spokesman for Yemen's Houthi Ansarullah movement says the airports of countries involved in the devastating military aggression and blockade against his impoverished homeland will be targeted as long as the embargo imposed by the Saudi-led coalition on Sana'a International Airport remains in place.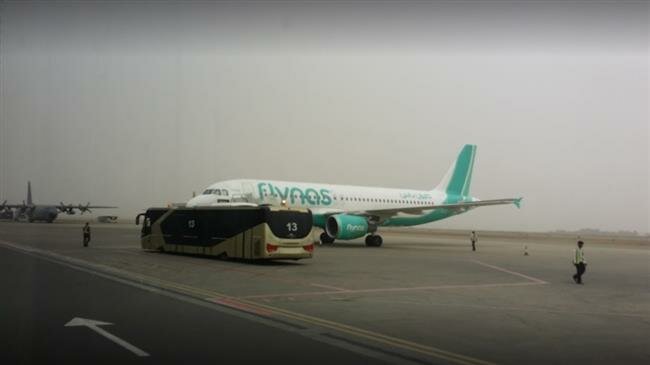 "We had repeatedly informed the United Nations about the health condition of [the Secretary-General of the Union of Popular Forces] Mohamed Abdel Rahman al-Rubai, who required treatment abroad. Unfortunately, the world body gave in to Saudi Arabia's demands, and could not do anything to lift the siege on Sana'a Airport," Yemen's Arabic-language al-Masirah television network cited Mohammed Abdul-Salam as writing on his official Twitter page on Sunday.
Yemen targets Saudi Arabia's Jizan airport with dronesYemen launches fresh drone attacks on the airport in Saudi Arabia's southwestern Jizan region.
The Houthi spokesman added, "This is something that cannot be tolerated at all."
"Given the criminal siege on Sana'a International Airport and the failure of the UN to take proper measures [aimed at resolution of the issue]…, the countries of the (Saudi-led) aggression must know that their airports are within our firing range as the attacks would be the most efficient way to end the blockade," Abdul-Salam pointed out.
Earlier in the day, Yemeni forces, backed by Popular Committees fighters, launched multiple airstrikes against Jizan airport in Saudi Arabia near the border with Yemen, using domestically-designed and -manufactured Qasef-2K (Striker-2K) combat drones.
Yemeni forces and their allies launched a drone strike against an MIM-104 Patriot surface-to-air missile system stationed at an airport in Saudi Arabia's southwestern border region of Najran on May 23.
'Yemeni drone targets Patriot system at Saudi airport'A Yemeni Qasef-2K combat drone has reportedly targeted a Patriot surface-to-air missile system at an airport in Saudi Arabia's border region of Najran.
A Yemeni military source, speaking on condition of anonymity, said at the time that the aerial attack had been carried out following close surveillance by Yemeni forces.
The development came a day after Yemeni soldiers and fighters from Popular Committees launched a drone into the same Saudi region, targeting military aircraft hangars at the airport.
Yemeni drone attack targets jet hangars at Saudi airportYemeni armed forces launch a drone strike against hangars housing warplanes at an airport in Saudi Arabia's southwestern Najran region.
Saudi Arabia and a number of its regional allies launched a devastating campaign against Yemen in March 2015, with the goal of bringing the government of former Yemeni president Abd Rabbuh Mansur Hadi back to power and crushing the Houthi Ansarullah movement.
Yemeni drone targets arms depot at Saudi airportYemeni armed forces launch a drone strike on an arms depot at Najran airport, days after Ansarullah warned of more retaliatory attacks against Saudi Arabia.
The US-based Armed Conflict Location and Event Data Project (ACLED), a nonprofit conflict-research organization, estimates that the Saudi-led war has claimed the lives of over 60,000 Yemenis since January 2016.
The war has also taken a heavy toll on the country's infrastructure, destroying hospitals, schools, and factories. The UN says over 24 million Yemenis are in dire need of humanitarian aid, including 10 million suffering from extreme levels of hunger.