Iran
Middle East
North America
Envoy: Trump Unaware of Iran's Lack of Interest in Nuclear Weapons
Iran's Ambassador and Permanent Representative to the United Nations Majid Takht Ravanchi blasted Washington for re-imposing fresh sanctions against the Islamic Republic, and said that US President Donald Trump does not have a clear understanding of Iran's intentions in the nuclear field.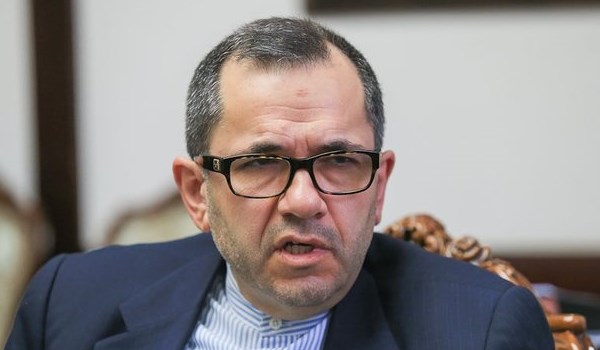 "Trump is not aware that Iran is not after nuclear weapons," Takht Ravanchi said in an interview with the US-based MSNBC on Thursday.
The Iranian ambassador pointed to prohibition of the nuclear weapons in Islam as pointed out by Supreme Leader of the Islamic Revolution Ayatollah Seyed Ali Khamenei, and said that the Iranian officials will surely follow the guidelines of the Supreme Leader in different affairs.
In a relevant development on Wednesday, Iran called on all world countries to join the Non-Proliferation Treaty (NPT), and underlined the necessity for nuclear disarmament to obviate the biggest threat to the global security.
Iran's Representative Seyed Mohammad Ali Robatjazi made the remarks at the preparatory committee meeting for the 2020 review conference for the NPT at the UN headquarters in New York.
He underscored that Tehran regards nuclear weapons as the biggest threat to the world.
Robatjazi added that the best way to stop development of nuclear weapons is the full implementation of NPT treaty and making all the countries join the agreement.
Voicing Islamic Republic's strong support for international efforts toward total elimination of these weapons, he criticized the US nuclear aid to the Israeli regime and its double standard approaches on the possession and development of atomic technology.
"The Zionist regime should be forced to join the Non-Proliferation Treaty, and bring all of its nuclear activities and facilities under the IAEA's comprehensive safeguards," he further stressed.
Israel is believed to be the sole possessor of nuclear arms in the Middle East with over 200 ready-to-launch warheads in its stockpile.
Iran, an NPT-signatory, has also called for the removal of all weapons of mass destruction from across the globe.