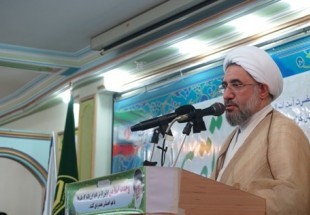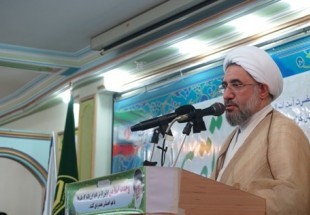 Grand Ayatollah Mohsen Araki, Secretary General of World Forum for Proximity of Islamic Schools of Thought, attended the ceremony to mark works and thesis with the theme of Islamic proximity in the Sunni-inhibited city of Sanandaj, Kurdistan Province, and vowed that isolation and topple of extremism and Takfiri (excommunication) groups will soon arrive, reported Taqrib News Agency (TNA).
He hailed Sanandaj as the land of culture, martyrdom, sacrifice, perseverance and Islamic unity.
He noted that a society which follows Prophet Mohammad (PBUH) will be a unified community and added," A society which follows the prophet of Islam cannot be a disintegrated or hostile society." stressing solidarity as a blessing same way that division is a punishment by God Almighty.
Ayatollah Araki praised the unified society formed in the Islamic Republic of Iran and quoted first Shia Imam, Imam Ali (AS) saying," What unifies the people in the Islamic society is their finding happiness or dissatisfaction in the same issues same way that is going on in Iran at present."
He said that other Islamic countries should also join each other in finding common sources of happiness, sorrow, sympathy or cooperation and stressed," The reason Islamic Republic of Iran is highlighting this trend for unity is due to its efforts to expand the culture of proximity and sending the unifying lifestyle of Prophet Mohammad (PBUH) across the globe."
Senior cleric called the different Islamic denominations to join each other and safeguard unity as the precious heritage from Prophet Mohammad (PBUH).
He stressed," Regarding the present issues in the world of Islam, we will soon be witness to a return of unity and revival of Islamic teachings of Prophet Mohammad (PBUH), isolation of extremism and Takfiri groups in the world."