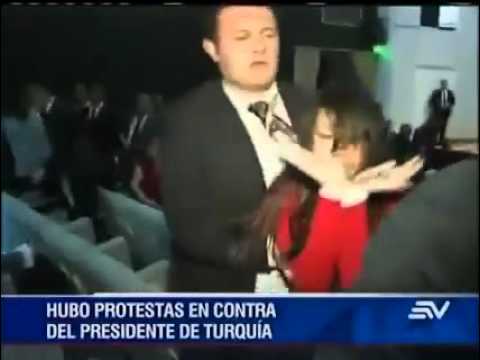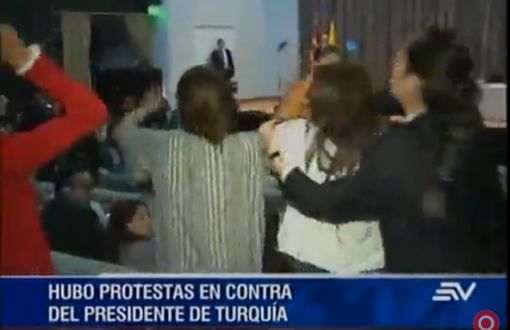 Throughout the week, the security team of Turkish President Recep Tayyip Erdogan has been involved in a series of incidents with protesters in several countries of Latin America during a region-wide trip. Protesters denounced the war against the Kurds waged by Turkey and the support Erdogan has given to terrorist groups such as Jabhat al-Nusra and ISIS in Syria and Iraq. On Monday, while Erdogan attended his official visit to the Chilean President Michelle Bachelet, Turkish guards trespassed the security perimeter, established by the Chilean police, in order to attack demonstrators and break their posters.
Later, Chilean agents detained a group of demonstrators mocking an ISIS-style execution, where the victim had written on a poster "ISIS is Erdogan". The incidents were only registered by the Iranian international news channel Hispan TV and by activists at the rally. This Friday, Erdogan personal security again showed a thuggish attitude by assaulting a group of protesters who shouted "murderer" to the Turkish president as he gave a lecture at the National Institute of Advanced Studies (IAEN) as part of his visit to Ecuador. According to reports, Ecuadorian citizens were beaten and pepper-sprayed by the Turkish guards; among them was Diego Vintimilla, MP from the Ecuadorian Communist Party.
But unlike its passage by Chile, this time the authorities didn't tolerate the breach of sovereignty represented by the aggression of the Turks. Gabriela Rivadeneira, president of Parliament and member of "Alianza Pais" – President Rafael Correa's party – denounced the attacks. Hours later, Ecuadorian Interior Minister Jose Serrano said it has withdrawn diplomatic passports from the Turkish officials involved in the aggressions, while the Foreign Ministry summoned the Turkish ambassador, stating the attacks were "unjustified".