Iran
EU depicts 6-party nuclear talks with Iran 'useful'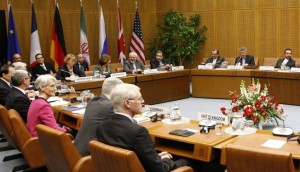 Nuclear experts from Iran and six world powers have had "a useful meeting" in New York ahead of political talks next week aimed at reaching an agreement over Iranian nuclear program, the European Union says.
An EU spokesperson said the talks were aimed at "further deepening" knowledge on the issues, and contributed to preparations for the high-level political negotiations on a comprehensive agreement in Vienna starting May 13. The person spoke on condition of anonymity because he was not authorized to speak publicly on the talks.
While hopes are rising that an agreement can be reached, the toughest issues must still be negotiated, and any deal could still fall apart.
Speaking before a new round of the expert-level talks in New York, Seyed Abbas Araqchi, the deputy foreign minister for legal and international affairs, said Iran remained hopeful that a comprehensive agreement could be reached by the 20 July deadline.
Russia, the UN nuclear agency, and outside experts tracking negotiations agree that the Iranians are cooperating, answering questions and appear to want an agreement that ends unilateral sanctions.
Iran insists its nuclear program is peaceful, aimed at producing nuclear energy, but the US, its Western allies and the Israeli regime have long claimed Tehran wants producing nuclear weapons.
The two sides are working toward a permanent agreement by July 20 that would decrease Iran's enrichment program, reduce its stockpile of 20 percent enriched uranium and turn some of it into a solid form in exchange for lifting all sanctions.
Decade-long cooperation with the International Atomic Energy Agency (IAEA) proves that Iran respects international regulations and pursues nuclear activities only for peaceful purposes.