Europe
World News
EU fate in balance as 400 million people vote in election
Tens of millions of Europeans are voting to choose their representatives in a battle between the nationalist right and pro-EU forces to chart a course for the bloc.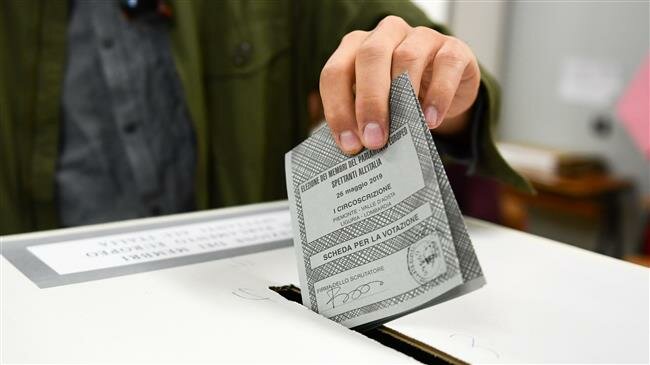 Polls opened at 7 a.m. (0400 GMT) in the east of the bloc on Sunday and will finally close at 11 p.m. (2100 GMT), with more than 400 million people eligible to vote.
The voters will choose 751 members of the European parliament for the next five years. Seven states have already voted, with 21 joining in on Sunday.
Polls suggest the vote will produce a more fragmented parliament than ever, putting a potential brake on collective action in economic and foreign policy.
The two center-right and center-left groups that have dominated Europe's politics are forecast to lose their joint majority for the first time, and nationalist and populist forces to make gains.
Right-wing populists top opinion polls in Italy and supposedly exiting Britain and could also win in France. However, exit polls in some countries that have already voted have given pro-EU parties some comfort.
The EU project faces enormous challenges, including the Brexit fallout, unprecedented slights from the US president who supports Europe's populists, border rows among members over refugees, an economy hobbled by public debt and the rise of China.
Far-rights across Europe rally, call for euro to be ditchedFar-right parties from across Europe have rallied in Milan to call for a crackdown on refugees and a return to pre-Maastricht Treaty that created the structure for the euro in 1999.
Acording to opinion polls conducted across the 28 member states, right-wing populists and EU opponents could take 20 to 23 percent of the seats in the newly elected parliament.
Janis Emmanouilidis of the European Policy Center think tank says the figures show a significant increase but "not enough to take power."
However, the far-right gains pose a threat to the bloc's existence. In 2014, nationalists hostile to the EU topped the poll in Britain and went on to win a 2016 referendum there that nearly yanked out one of the bloc's biggest members.
Hungarian right-wing Prime Minister Viktor Orban said on Sunday the migration issue will reshape the political spectrum in the EU in the vote and traditional party groupings will not play the same role in the future.
Italian Deputy Prime Minister Matteo Salvini is spearheading an ultra-right alliance, but Orban declined to say whether he would join it after the election.
Last week, Salvini gathered representatives from 11 other European far-right parties for a rally in Milan, that was watched by as many as 25,000 people.
Focusing on their toxic message of a Europe "under attack" from Muslims and liberal elites, these representatives want to form a group within the new European Parliament.
The EU has already stopped rescue ships, aimed at preventing the death of migrants, crossing the Mediterranean from North Africa.